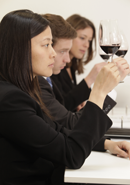 This comprehensive course gives you the proficiency to become a wine expert and the knowledge to understand how the wine business works, opening the doors to a career in both wine and gastronomy.
This course is also ideal for those considering a career in the restaurant business or for those who wish to become an entrepreneur in a wine-related business such as a wine bar, wine shop or wine import/export.
The Diploma is awarded by Le Cordon Bleu International Foundation, upon successful completion of the examinations.
Objectives
Students acquire knowledge and skills through both theory and practical training to :
Tuition fees
The Wine and Management Program currently costs €19 800.
Full tuition fees include the application fee, 5 vineyards trips, all wine tastings and students' uniforms (2 suits).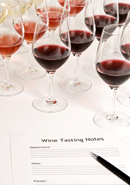 Study of viticultural countries
This program is spread over the nine months and focuses on French wines with an overview of vineyards in Europe and the New World. Subjects covered include cultivation techniques, associated climate and terroir as well as the winegrowing producers of each region.Students will have the chance to taste a representative selection of wines from each vineyard during the many professional tasting sessions organized in various locations throughout Paris. Several experts in the field (sommeliers, wine brokers, wine growers, speakers, wine merchants etc) provide students with the most up-to-date and comprehensive information in an ever-evolving discipline.
Business and sales force
This part of the program addresses the challenges of accounting and financial management in the wine business. Marketing, commercialization, business plan, target, location strategy and human resources are all covered. Students learn how to build a balanced wine menu calculated to optimize sales and profits.
Food and Wine pairing
During culinary demonstrations by Le Cordon Bleu Chefs, students practice food and wine pairing with sensory analysis of the dishes and wines being tasted.
Oenology
Students focus on vinification and viticulture techniques, indispensible for mastering the art of wine tasting.
Vineyard visits
As part of the Wine and Management Diploma, students go on a number of educational trips to French vineyards. These field trips give students the chance to discover the many facets of French vineyards and learn more about the history, the terroir, the economy, the way in which the wine industry is organized and the secrets of production of different wines. Here is some examples of French vineyard visits with the 2013-2014 Wine and Management Program students :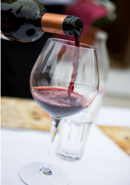 The course includes two internships: A 2-week internship during the harvest period and a 6-week internship in a wine related establishment, such as:
Hotels - Restaurants: Les Ambassadeurs (Crillon Hotel's restaurant), Drouant Restaurant , Le Sur Mesure (Mandarin Oriental Hotel's restaurant), La Tour d'Argent, Lasserre Restaurant , La Table du Baltimore (Baltimore Hotel's restaurant), Le Meurice Hotel, Le Bistrot du Sommelier, Le Jules Verne, Georges V, Frenchie
Wine bars and wine cellars: O Château, Le Petit Sommelier, Wine by One, Caves Legrand
Wine producers, specialized firms and organisations: Duval Leroy, AOC International, France Boissons, Bettane & Dessauve
Wine tourism agencies : Wine Chic Travel
This internships helps students to find a job, like three students from the class of 2014 who found employment immediately following graduation.
After obtaining the Diploma, according to the student's level, possible career opportunities include:
Sommelier

Consultant

Wine Importer /Exporter

Bistro owner

Wine tourism

Journalist