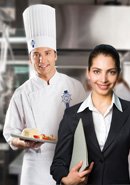 This program gives students all the skills necessary to develop their business and make it a success
It is a complete and intensive program to become a leader in the restaurant business on an international level. This course is also ideal for Le Cordon Bleu graduates in culinary arts who want to pursue their studies in the culinary business field.
This program is only taught in English.
Objectives
This program gives the student:
A global and thorough understanding of restaurant management

Fundamental management skills needed to make a business successful

An insight into new trends and technological innovations in the restaurant industry

Hands on training to develop real leadership skills
Full tuitions
The Restaurant Management Program total tuition fees are 15 900 €
Full tuition includes the application fee and the student uniform: 2 suits, 1 apron, 1 t-shirt, 1 tea towel and 1 cap.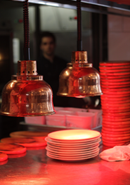 Restaurant Management and Finance
In this module, students will learn the fundamentals of accounting, analyzing profitability, and managing human resources within the restaurant industry.
Courses : Food and beverage management - Financial management - Human resources - Introduction to business law - Company strategy - Business plan
Setting up and running a restaurant
In this module, students will learn the fundamentals of running a restaurant, from the kitchen organization to the menu conception.
Courses : Restaurant organization : operating sales points and invoicing - Creating a restaurant menu - Hygiene and safety - Raw materials: from the producer to the plate - Monitoring the quality and productivity of a restaurant
Marketing and Communication
In this module, the students evaluate the importance of marketing in the restaurant industry.
Courses : Marketing and sales strategies - Trends and target markets in the restaurant industry - Communication in the restaurant industry
Cuisine, Wine and Service
In this module, you will develop dining room management skills and gain knowledge in kitchen operations.
Courses : Cuisine and pastry techniques - Introduction to oenology - Introduction to dining room service - Food and wine pairing - Restaurant service (practical skills)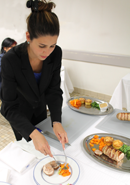 A 6 month internship is included in the program. This will allow students to put the practical, managerial and operational skills learnt during the program into practice. Students will be able to carry out internships in reputable establishments, such as :
Restaurants : Les Climats, Akrame, Farago
Hotels : Shangri-La, Plaza Athénée
This program allows entrepreneurs to start their business or join a management team in a culinary establishement, for example :
Restaurant : traditional, gourmet, bistrot

Snack bar, food truck, pop-up restaurant

Caterer, private Chef

Pastry shop, café, tearoom