Holiday Baking Workshop - SOLD OUT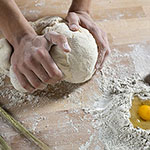 Date: Saturday 3rd October 2015
Cost: $199
Course Times: 8.45am – 5pm (1 hour lunch break included)
Where: Le Cordon Bleu NZ - Pâtisserie Kitchen, Level 2, 48-54 Cuba Street, Te Aro, Wellington
Course Includes: All ingredients, aprons and tea towels will be provided for you. All cooking equipment and teaching resources are provided in our practical kitchens for your use on the day.
Course Details/Summary: A trip around the 4 corners of France with holiday bread and baking traditions, and the unique French tradition of the galette des rois. Let our Chefs teach you how to create a range of breads:
- La pompe provencale (Sud) (brioche à l'huile)
- Panetone, Pandoro (Italy)
- Stollens
- Panforte
- Galettes des rois
No previous culinary experience is required to participate in this course, and everything you create is yours to take home at the end of the day.
Please arrive by 8:45am for a 9am start. You will be required to attend the full course from 9am till 5pm with an hour lunch break for your convenience.
Notes: Limited Spaces available. Le Cordon Bleu Gift Vouchers can be used to pay for part of the course. Lunch not provided.
If you have any queries in regards to Blue Ribbon Masterclasses / Courses or would like to book, please email nz@cordonbleu.edu or call 04 472 9800 for more information.