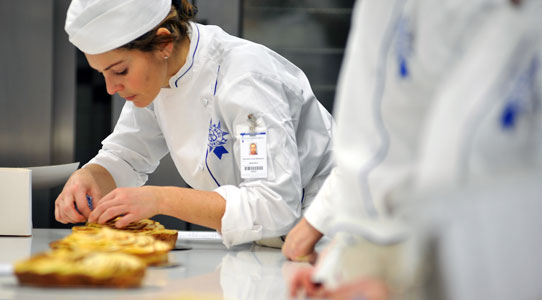 Intensive
Diplôme de Pâtisserie
Accelerate your culinary ambitions with our Intensive Diplôme de Pâtisserie, which teaches the same knowledge of classic pâtisserie techniques as our nine-month diploma but through a condensed six-month structure.
Through study of this programme, you will become highly skilled in the culinary art of pastry and gain essential creative skills to craft exceptional dishes and showpieces. Knowledge is shared by our team of classically trained Master Chefs who possess years of experience working in Michelin-star restaurants and the industry's finest kitchens.
The Basic and Intermediate levels of this diploma are completed in three months, with the Superior level completed through a further three months of study.
We believe teaching progressively classical method and techniques are primary for you to then be able to apply it to any type of cuisines and adapt it to your future career.
Course structure and content
The Intensive Diplôme de Pâtisserie can be completed in 6 months. We also offer a non-intensive diploma in 9 months.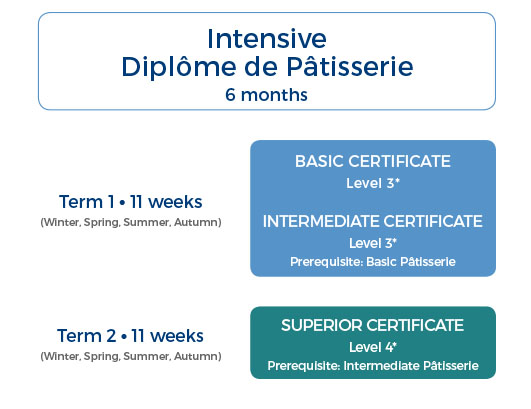 *Please refer to our accreditation page.
Basic Pâtisserie is designed to give students a strong foundation on which to build their Pâtisserie skills and knowledge. As students progress, they learn to prepare a wide selection of desserts and pastries through practical sessions and demonstrations. This exciting course introduces the various concepts, properties and applications of Pâtisserie which are essential for working in the industry.

Classical French pastry techniques
Kitchen management 1
Implementing health, safety and hygiene procedures
Introduction to basic wine knowledge
Introduction to basic cheese knowledge

Students who wish to apply simultaneously for both Basic Cuisine and Basic Pâtisserie certificates should contact us directly.
During Intermediate Pâtisserie you begin to master fundamental techniques, such as making a génoise sponge, and your proficiency will allow you to focus more on decoration. You will also be introduced to sugar sculpting and more advanced chocolate work, developing skills such as chocolate piping and casting, and preparing restaurant-style desserts. Under the guidance of our chefs, you are able to develop essential artistic skills.

Viennoiserie and French bread making
Decoration techniques in chocolate and sugar craft
Complex entremets and gâteaux production
Regional wine knowledge
Cheese production knowledge
Superior Pâtisserie combines all the knowledge, techniques and artistic skills previously acquired and encourages you to personalise your work. Practical sessions, demonstrations and theory lessons help you gain a thorough understanding of the principles involved, with a strong focus on developing advanced levels of artistic and creative work.

Hot and cold contemporary plated desserts for restaurants
Petits fours and chocolate production techniques
Afternoon tea production and event organisation
Wine and food pairing
Cheese beyond taste

Superior Pâtisserie students host a formal Afternoon Tea event which provides a taste of working in the industry - producing food in quantity, working in team to a deadline and exposure to the hospitality environment. The Afternoon Tea event is unique to London campus and contributes to students' overall grade.
Who is this programme for?
We welcome students who want to study our Diplôme de Pâtisserie through six months of intensive full-time tuition from a variety of different educational and occupational backgrounds. No prior culinary experience is required.
This programme is suitable if:
You wish to enter a career working in a professional kitchen (pâtisserie, restaurant or hotel)

You are a professional chef or entrepreneur and wish to learn classic French techniques to set up your own pastry business

You love baking and always wanted to learn 'the right way' to do things in the kitchen

You wish to learn professional skills within a gap year or for use during a ski season
What qualification will I gain?
Successful graduates of the Diplôme de Pâtisserie will earn a Le Cordon Bleu qualification celebrated in many countries across the world. It is for this reason that many top restaurants, hotel groups and other employers attend our Careers Forum each term to meet our students for post study work opportunities.

This diploma course has been accredited under an "Investing in Quality" licence from national awarding organisation NCFE, and the course measurable learning outcomes have been benchmarked at Level 4 using Ofqual's Qualification and Credit Framework (QCF) level descriptors.

We find the caliber of Le Cordon Bleu students to be excellent. Their high standard and professionalism is a perfect fit for our Michelin star restaurant.
Atul Kochhar
Michelin starred chef and chef-patron of Benares
Read more testimonials from the Industry