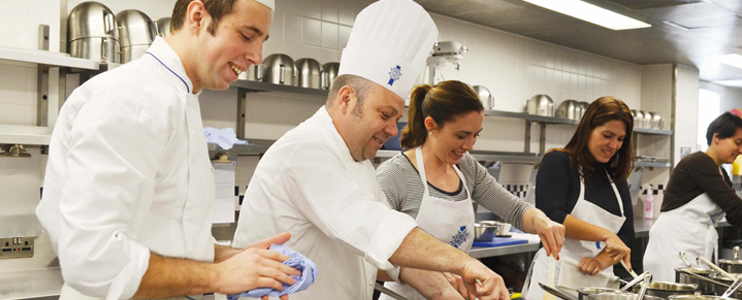 Summer 2015
Le Cordon Bleu has a large variety of cookery courses available this summer.
From classes of just few hours to formally accredited 6 week courses, you should be able to find the cooking course that would suit you best. Our culinary courses are a wonderful way to learn more about the fundamental techniques in cuisine, pâtisserie or wine in entertaining and informal classes.
Whether you are preparing for a professional cooking career or just wish to study over the summer for your own interest you should be able to find a summer programme for you.
How long do you want to study with us?
Intensive Cuisine and Pâtisserie Certificates
Complete our Basic and Intermediate certificates as an intensive programme this summer.
Intensive Basic Cuisine

Prerequisite: none
Duration: 6 weeks

Intensive Basic Cuisine introduces you to the traditional French culinary techniques. In this initial programme you will learn:

Classical cooking techniques including professional knife skills, fish filleting, introduction to plating presentation…
Elementary methods of cooking and basic cuisine preparations
Introduction to wine and cheese knowledge
Food safety and hygiene in the kitchen
Personal kitchen organisation and management skills
Intensive Intermediate Cuisine

Prerequisite: Basic Cuisine Certificate
Duration: 6 weeks

An introduction to classic French regional dishes and European cuisine techniques, through which you will apply the techniques introduced during the basic level certificate.

The importance of mise en place: understanding, organisation and production
Comprehensive study of classical cuisine and French regional cuisine
European culinary techniques and cuisine
Enhanced knowledge of professional kitchen skills
More advanced knowledge of food and wine
Intensive Basic Pâtisserie

Prerequisite: none
Duration: 6 weeks

Intensive Basic Pâtisserie is designed to give students a strong foundation on which to build their Pâtisserie skills and knowledge. As students progress, they learn to prepare a wide selection of desserts and pastries through practical sessions and demonstrations. This exciting course introduces the various concepts, properties and applications of Pâtisserie which are essential for working in the industry.

Classical French Pastry Techniques
Kitchen management 1
Implementing health, safety and hygiene procedures
Intensive Intermediate Pâtisserie

Prerequisite: Basic Pâtisserie Certificate
Duration: 6 weeks

During Intensive Intermediate Pâtisserie you begin to master fundamental techniques, such as making a génoise sponge, and your proficiency will allow you to focus more on decoration. You will also be introduced to sugar sculpting and more advanced chocolate work, developing skills such as chocolate piping and casting, and preparing restaurant-style desserts. Under the guidance of our chefs, you are able to develop essential artistic skills.

Viennoiserie and French Bread Making
Decoration Techniques in Chocolate
Complex Entremets and Gateaux Production
Kitchen Management 2
Implementing Health, Safety and Hygiene Procedures
Summer Essentials
Prerequisite: none
Duration: 3 weeks

Summer Essentials is designed for home cooks and food enthusiasts who want to learn practical skills and gain confidence in the kitchen. In our intensive three week cooking courses, you will be trained with a mix of key techniques and recipes based around the traditional teaching methods of Le Cordon Bleu as well as classic and modern interpretation.
Summer Essentials has been created for those who love good food and cooking, but are subject to limited time to improve and learn new techniques.

Demonstrations from Le Cordon Bleu Chefs
Practical classes in state of the art teaching kitchens with individual stations
Interactive workshops on canapés, starters and desserts
Expert cheese lecture and tasting
Expert wine lecture and tasting
Market trip to Smithfield's - one of the largest meat markets in Europe
Market trip to Billingsgate - UK's largest inland fish market
Food hygiene qualification to level 2
Preparation of a group buffet event with presentation of certificates
10-day Courses
Cake Decorating

Prerequisite: none
Duration: 60 hours

Created by our renowned pâtisserie team, the Cake Decorating course is a combination of practical sessions, demonstrations and lectures. Our professional chefs will teach you a wide range of recipes, how to temper chocolate and will give you an overview on the different decoration techniques.
Boulangerie

Prerequisite: none
Duration: 60 hours

Designed for the aspiring baker, you will be taught hand and machine techniques through a combination of practical sessions, demonstrations and lectures. This course aims at giving you a comprehensive understanding of a variety of yeasted doughs and associated production method.
Wine Essentials

Prerequisite: none
Duration: 14 hours

Over a series of evening classes, you will have the opportunity to learn from some of the best wine professionals in a lively, friendly but studious atmosphere where students are encouraged to actively participate in the discussions.
4-Day and 5-Day Courses
Prerequisite: none
Duration: 4 or 5 days

Our 4 / 5 day courses are perfect for those wishing to immerse themselves in cooking courses in the heart of London. The courses have been designed for both the culinary enthusiasts and for the experienced cooks who want to brush up some of their skills.
1 Day or less Courses
Prerequisite: none
Duration: from 2.5 hours to 1 day

We offer a great selection of short courses designed especially for enthusiastic home cooks who want to discover new techniques and improve their cooking skills. All courses usually focus on specific skills or cuisine. They are are a wonderful way to learn more about cuisine and pâtisserie in entertaining and informal classes.

We have the following range of courses:

1-Day Courses
Under the guidance of a Le Cordon Bleu Master Chef, you will work at your own station and learn new techniques in an fun, informal and hands-on classes.
2.5 Hours Workshops
you will work at your own station and be guided by our Master Chefs. Throughout the workshop, you will acquire new culinary knowledge and hone a new technique.
2.5 Hours Demonstrations
Sit back, relax and let the chefs do the cooking for you in our Demonstrations. Follow our Master Chefs as they talk you through the theme of each session.

View all the courses available by clicking on the apply button.
<![CDATA[ var client = new ZeroClipboard( $("button#copy-button")); client.on( 'load', function(client) { // alert( "movie is loaded" ); client.on( 'datarequested', function(client) { client.setText(document.getElementById('preview').innerHTML); } ); client.on( 'complete', function(client, args) { // alert("Copied text to clipboard: " + args.text ); //$('#message').fadeIn().delay(1000).fadeOut(); /*$('#message') .css('visibility', 'visible') .animate({opacity: 1.0, top: '8px'}, 500) .delay(1000) .animate({opacity: 0.0, top: '-8px'}, 500);*/ var n = noty({text: 'HTML Copied to clipboard', type: 'success', timeout: 1500}); n.close(); //$("#copy-button span").text("HTML Copied").fadeIn(); } ); } ); client.on( 'wrongflash noflash', function() { ZeroClipboard.destroy(); } ); // ]]>