Le Cordon Bleu Dusit Culinary School offers the Art of Bakery Course – a 240-hour 10 week program offered every term of each year. The course has been designed for those who plan to become Bakery professionals but it is also ideal for those who simply love baking and want a comprehensive program of study. By enrolling in this course you will learn all the essential skills you need for a successful Bread Baking career. Graduates are awarded the Le Cordon Bleu Certificate in Baking – Diplome de Boulangerie.
Students are taught how to make a range of bakery products, including classic French, Italian, German, and American breads as well as a variety of classic French and European baked goods: Puff pastries, Croissants, Danishes, Pretzels, Scones, etc. The course is taught by an experienced bakery chef who also adds sweet breads and stuffed breads which are popular in Thailand.
Also included in our Bakery curriculum students will learn about the history of bread making and baking, bread making techniques (manual and by machine), and learn about which equipment they will need. Students are also required to study some basic management modules applicable to the commercial baking industry.
Programme Structure
---
General Knowledge on bread-making
- Preparation techniques of bread-making
- Functions and selection of ingredients in bread-making
The Evolution of Making Breads emphasis on French Breads
The Art of Bread-Decoration for Display
Management Module of a Bakery Shop; Marketing, Bakery Operations System, and the Basics of Bakery Numbers

Classic French Breads
Baguettes, Ciabatta
Sandwich Breads
Rye Sandwich Bread, Whole Wheat Sandwich Bread, Tomato Sandwich Bread, Cereal Sandwich Bread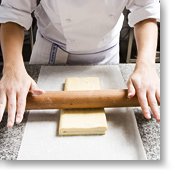 Soften and Sweet Breads
Milk Bread, Viennese Bread, Sweet Bread
Puff Pastry
Danish, Kouign-aman Bread
Various Croissants
Whole Wheat Croissant, Chocolate Croissant, Almond Croissant, Raisin Croissant, Garnish Croissant
Special Breads
Bran Bread, Walnut Rye Bread, Buck Wheat Bread
International Breads
Bagel, Roti, Brazilian Bread, Pretzel, Donut, Custard Bun, Cinnamon Roll, Scones, Orange Chocolate Bun, Olives, Sundried Tomatoes and Goat Cheese Roll
Cookies
Chocolate Chip Cookies, Peanut Butter Cookies, Anzac Biscuit, Brownies, Apple Crumble
Qualification:

Diplôme de Boulangerie

Terms Start:

January / April / July / October

Duration:

10 Weeks

Weeks:

The course is conducted for 4 days (24 hours) per week

Total hours:

240 hours

Language Conducted:

English with Thai translation for Thai students

Course Fee:

THB 227,000 (Thai student)
THB 229,000 (International student)
**Remark: The course fee is inclusive of additional fees as follow:
- Tuition Fee THB 215,000
- Uniforms THB 9,000
- Application fee THB 3,000 (THB 5,000 for International Students)

Please note that all courses are subject to change without prior notice.


Other Le Cordon Bleu Dusit Programmes:
» Boulangerie: The Art of Bread-Making
» Classic Cycle Programme: Patisserie