Café Le Cordon Bleu is located at our Centre of Excellence in central London and represents the first European café from Le Cordon Bleu. Just seconds from the British Museum and overlooking the secluded Pied Bull Yard, the design reflects Le Cordon Bleu Paris as it was in the 1950's.
Fine French products including artisan breads, pastries, viennoiseries and sandwich baguettes are made on site by our classically trained chefs daily. The café provides a window to Le Cordon Bleu, with all products reflecting the level of excellence taught to our students enrolled in accredited programmes including the Grand Diplôme, Cuisine and Pâtisserie Diplomas.
Location and Opening Times
Location:
Pied Bull Yard - 15 Bloomsbury Square - London WC1A 2LS
Take away or eat-in: 30 seats inside the Café and 50 outside in the courtyard
Opening Times:
Monday to Friday: 7.30am - 6.30pm
Saturday: 8.00am - 3.00pm
Product Selection
Boulangerie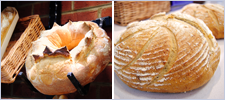 A French culinary standard, the boulangerie supplies artisan breads made within the
institute daily. This includes the classic baguette, rye loaf, and 5 grain breads, alongside
Italian foccaccia.
Viennoiseries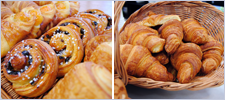 Light and tempting croissants, pain au chocolat, pain au raisin and Danish pastries provide a satisfying snack or breakfast item. The selection of viennoiseries presented at Café Le Cordon Bleu make the ideal partner to a comforting ground bean coffee or refreshing fruit juice.
Patisserie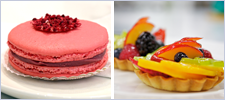 Our delicately crafted pastries are made to the same standards of excellence as taught to all Patisserie and Grand Diplôme students. Tempting macarons, cakes and tartelettes provide a taste of Paris in the heart of London.
Sandwich Baguettes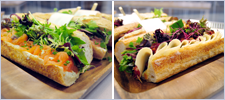 A selection of sandwich baguettes are created on site using our own artisan bread. Tartines - toasted baguette slices layered with a variety of the finest select ingredients - are also available. These can be enjoyed in our Parisian-style cafe or available to take away with you.
Plats Chauds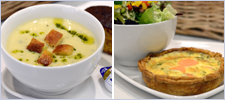 Our selection of hot dishes provide a satisfying lunch choice, with all items made on site daily by our classically trained chefs. Fougasse and chausson - our artisan savoury breads encasing a variety of select ingredients – are offered alongside soupe du jour and hearty quiches.
Boissons Chaudes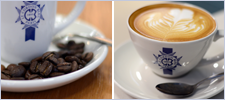 Hot drinks - and traditionally coffee – are the epitome of French cafés. We offer only freshly ground coffee tailored to your tastes, whether rich and milky or dark and intense. Breakfast, green and fruit teas provide a quintessentially British alternative, alongside indulgent hot chocolate.