Signatures Restaurant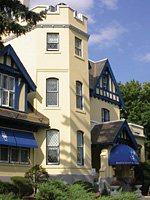 In keeping with our tradition of excellence, Le Cordon Bleu proudly offers our in-house restaurant, Signatures Restaurant on the grounds of Le Cordon Bleu Ottawa Culinary Arts Institute
From within this Tudor Revival-style mansion, an exciting new restaurant concept has emerged. Signatures Restaurant combines the finest French cuisine with the relaxed, casual ambiance and reasonable prices.
Our world class team of chefs creates a new exciting lunch menu every week allowing you to enjoy a choice of entrée, main course and dessert at a fixed price of $29. Our dinner menu offers even more variety with seasonal changes that showcase local products.
In addition, the atmosphere at Signatures Restaurant aims to enhance your dining experience through elegant French country décor from Le Cordon Bleu's sister company Pierre Deux. Several dining rooms are available, including five private salons for private gatherings and intimate dining. Signatures Restaurant is pleased to offer you a distinctive experience that exemplifies excellence in the culinary arts.
Make a reservation at Signatures Restaurant.

Le Cordon Bleu Casa de Francia
In addition to Le Cordon Bleu Signatures, Le Cordon Bleu Casa de Francia Restaurant was opened in 2003 as a non-profit application restaurant. Located in the former French Embassy in Mexico City, Casa de Francia is the result of a gastronomical cultural project with the objective to spread the art of French gastronomy to aspiring professionals from Mexican hospitality schools. Under the direction of an executive chef, scholarship students learn to run a restaurant through practical experience. Casa de Francia provides students with the opportunity to work with fresh, high quality ingredients in a professional atmosphere to create traditional and Mexican fusion dishes.
For more information about Le Cordon Bleu Casa de Francia, please click here.
Signatures Restaurant on the Regent
In addition to our Le Cordon Bleu institutes and restaurants found all around the world, we also sail on the Seven Seas!
Regent Seven Seas Cruises and Le Cordon Bleu Intenational have partnered to bring about a cruise experience that is like no other. Guests on board the Seven Seas Mariner and the Seven Seas Voyager have the unique opportunity to dine at Signatures, the only permanent Le Cordon Bleu restaurant on a cruise ship. The fixed a la carte menu is a superb collection of traditional French dishes, complemented by a specials menu which is constantly changing to make the most of local and seasonal ingredients at each port of call.
On selected cruises, Le Cordon Bleu Culinary Arts Institute and Regent Cruise Lines offer workshops called Le Cordon Bleu at Sea, "Classes Culinaires des Croisières." In small groups, guests have the opportunity to take gourmet courses with themes based on various ports of call. Under the supervision of Le Cordon Bleu chefs, the passengers attend short demonstrations followed by hands-on practical classes. At the end of the three-day program, the participants will receive a Le Cordon Bleu Certificate of Attendance during the awards ceremony. The graduation culminates in a dinner at the Signatures restaurant prepared by one of our many talented Le Cordon Bleu Chefs.
For more information about Le Cordon Bleu Signatures restaurant aboard the Regent Seven Seas Cruise Lines please click here.