In The News

Meet Zoee Wong
Following the launch of our Diploma in Culinary Management, we met with Zoee Wong to understand more about the programme and see what she thinks about it.
Can you please tell us a little bit about yourself?
Before enrolling into the Diploma in Culinary Management programme, I studied Le Grand Diplôme® and loved every minute of it. In the end, I was torn between Cuisine and Pâtisserie and looked forward to exploring my options. Then came the launch of DCM.
Why did you choose to enrol for Le Cordon Bleu's Diploma in Culinary Management?
Diploma in Culinary Management focuses on the two things I had always wanted to learn about: the 'management-side' of restaurants (or any food business, really) including HR, marketing, financing etc as well as modernist cuisine, or advanced culinary techniques – in spite of my looking, this was a combination I had yet to find anywhere else. Basically, I was sold.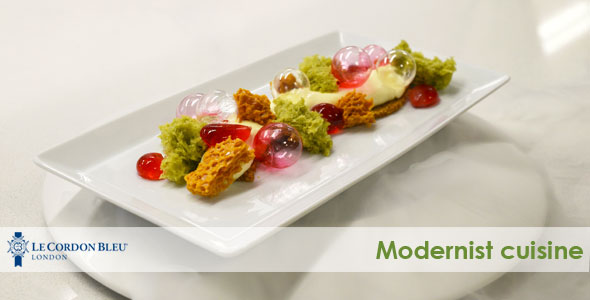 Can you describe a typical day as a Diploma in Culinary Management student?
It's quite difficult to describe a typical day in the life of a DCM student, as every day is so different. Instead, I issue a warning: This course may turn you into a Monday-loving person. Yes, I know. Every Mondays we have a six-hour workshop which is one of the highlights. The chefs demonstrate new, advanced techniques, which we then apply to our own dishes using the ingredients provided. It is, in a way, an extreme mystery basket challenge. However, I like to think of it as us being released into the wild.
Any highlights that you would like to share or a piece of advice that you would you give to any student considering to enrol?
Executing and expanding our ideas to create beautiful, complex dishes is extremely satisfying and liberating. We take all the techniques learned across the Grand Diplôme, enhance them and put them into practice. I appreciate being given so much creative freedom alongside the excellent advice of the chefs. If you are intrigued by the idea of modernist cuisine or understanding the inner-workings of a food business – or both – do consider this course. I'm certainly glad I did.
The Diploma in Culinary Management has been designed to provide students with the knowledge and skills to succeed as the managers of tomorrow in the hospitality and restaurant industries at international level.
Please contact us if you would like to receive further information
or visit our Diploma in Culinary Management page.
For more information