In The News

UK Pastry Team Preparing at London Institute
Le Cordon Bleu London's pâtisserie teaching chefs Javier Mercado and Nicolas Belorgey have been joined at the London institute by their UK Club Coupe du Monde teammates to prepare for the Coupe du Monde de la Pâtisserie World Championships.
The UK team comprises The Savoy's Executive Pastry Chef Martin Chiffers and Chef Nicolas Bouhelier, Pastry Sous Chef at Raymond Blanc's 2 Michelin star Le Manoir aux Quat'saisons. Chef Benoit Blint, Chef Pattisier at Le Manoir aux Quat'saisons, is Chairman of the UK team.
The chefs have been preparing at our London institute using the professionally equipped pâtisserie kitchens found on three floors of the building. To develop the next generation of master sugar artists and pâtissiers, the team runs a mentee programme allowing young chefs to assist in the preparations for the competition and learn directly from the master chefs. Le Cordon Bleu London alumni Umit Yilmaz is a current member of the mentee programme, and hopes to join the UK Club Coupe du Monde team in the future.
The UK team qualified for the final after winning the Coupe du Monde de la Pâtisserie European Cup in March 2012. The competition final takes place in January 2013 in Lyon, and aims to showcase the evolution of pâtisserie skills, promote new ideas in gourmet pastry and motivate young professionals in the industry.
Chef Javier and Chef Nicolas have both successfully competed in a number of pâtisserie competitions throughout their careers including the World Pastry Teams Championship and the Gastronomical Fair of Dijon respectively.
Le Cordon Bleu is pleased to support the UK Coupe du Monde team, and wish them every success for the final.
For further details on the UK Coupe du Monde team and to follow their progress, visit: www.ukclubcoupedumonde.co.uk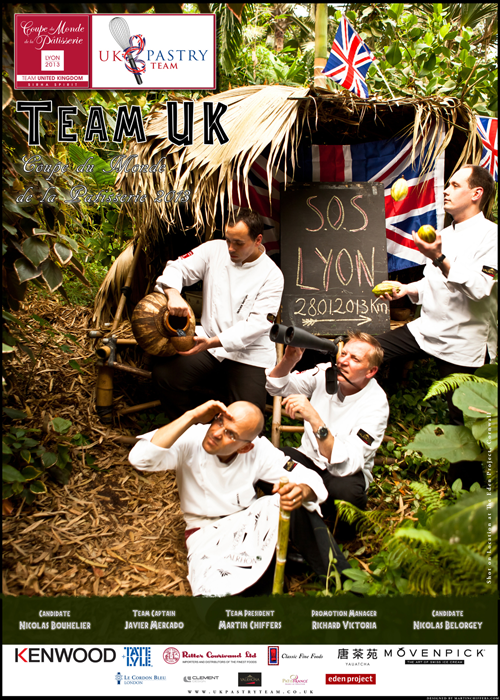 For more information