In The News

Krakow Brothers Win Trendy Chef Competition 2013
Brothers Michael and Darius Kudukowie - chefs at the four-star Grand Sal Hotel in Wieliczka, Poland - have won this year's Trendy Chef Competition following an exciting final event at the Sunny Mill Hotel in Bydgoszcz.
All finalists were tasked with creating a fish soup, duck main course and chocolate dessert, with the freedom to apply their personal creativity to produce unique concepts of taste and presentation. Each dish was tasted and judged by an esteemed panel which included Le Cordon Bleu London Academic Director and Master Chef Loic Malfait who was invited to judge the competition for a second year.
During the event, Chef Loic also lead a culinary demonstration, preparing dishes of salmon ballotine followed by pineapple ravioli to showcase the classic techniques taught to students at our London Centre of Excellence. Representatives of our London institute were also in attendance to present information on the opportunities provided by a Le Cordon Bleu education.
The Trendy Chef Competition attracts leading chefs from across Poland and internationally, who each have experience working in the finest restaurants and kitchens producing dishes to the highest standard. The competition aims to showcase emerging talent while promoting creativity and new trends to advance Polish gastronomy.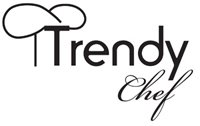 For more information