In The News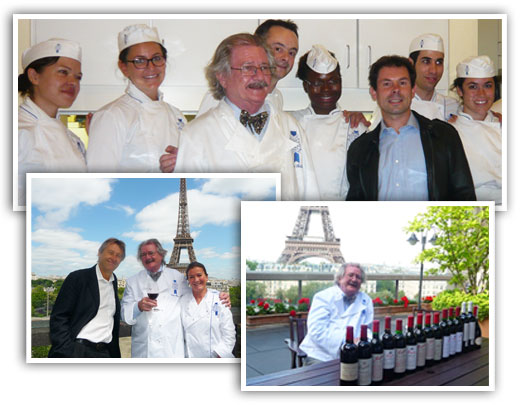 Chef Tony Bilson in Paris
After the participation of Treasury Wine Estates in the largest worldwide wine show in Bordeaux, Vinexpo 2011, this Australian company, owner of the Penfold's Estate welcomed twenty guests at the Australian Embassy of Paris, with His Excellency Ambassador David Ritchie, for a prestigious historical dinner.
A total of 21 wines were tasted around a menu specially created by Chef Tony Bilson, « the godfather of Australian cuisine"  highlighting in particular a 1953 Grange Cabernet.

A team of Le Cordon Bleu students with Chef Instructor Philippe Clergue were present to assist in the preparation and organization of the event.
During his visit to Paris, Tony also conducted a conference on the evolution of French Cuisine since Escoffier exclusively for Le Cordon Bleu students.
During this interesting and informative speech, Chef Tony Bilson and Chef Clergue prepared a Peach Melba recipe created by Escoffier in 1892 to honor a famous Australian performer.

The Restaurant Bilson's of Tony Bilson is located in the Radisson Plaza Hotel in Sydney. Last week the restaurant was awarded the prize of the Best Restaurant in Australia. The chef of this restaurant is Peruvian Diego Muñoz, Grand Diplôme Le Cordon Bleu Paris 1999.