In The News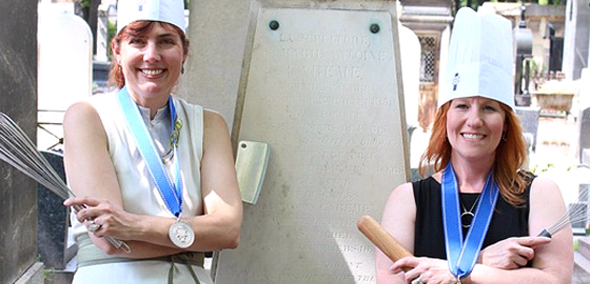 The Gamble sisters: Le Cordon Bleu culinary arts training around the world
Tracy and Katheryn Gamble are firm believers that gastronomy has both a national and international identity, and furthermore this identity applies to flavours, ingredients and techniques.
Studying at Le Cordon Bleu gave them the opportunity to learn all about gastronomy in different parts of the world. With over 100 years of teaching experience, Le Cordon Bleu offers training in cuisine, pastry, wine, restaurant management, hospitality and tourism in more than 50 schools in some 20 countries.
The Gamble sisters made the most of the institute's extensive network to embark on their international culinary adventure. Tracy studied pastry whilst Katheryn focused on cuisine techniques. It is possible, in most Le Cordon Bleu campuses, to divide the Cuisine and Pastry Diplomas into 3 Certificates. They therefore received their Basic Certificate in London, their Intermediate Certificate in Sydney and their Superior Certificate, which culminated in them being awarded their Diploma, in Paris in 2013.
Of American nationality, the Gamble sisters decided to begin their international culinary journey at the London Campus as they were familiar with the city, and wanted to get a firm grasp on the fundamental cuisine and pastry techniques without the issue of a language barrier. They went on to discover cosmopolitan cuisine at the Sydney campus in Australia. Their culinary escapade came to an end in Paris, the true heart of gastronomy, where they completed their Superior Certificate at Le Cordon Bleu Paris.
For Tracy and Katheryn Gamble, each Certificate held new challenges. As well as learning new culinary techniques with top Chefs, they also had to adjust to life in a new country and a new culture. They were able to make the most of the cultural richness of each city and have particularly fond memories of Borough Market in London, Sydney's fish market and Rungis market, near Paris.
Tracy and Katheryn Gamble's experience is unique but each and every Le Cordon Bleu student has the opportunity to combine travel and culinary training by following Certificates in different campuses. Le Cordon Bleu's international network of schools gives students the possibility of a truly enriching culinary and cultural experience as well as professional and personal fulfillment.
So students, are you also tempted to embark on an international culinary adventure?
For more information