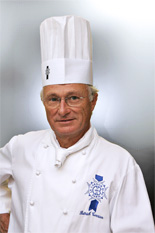 Le Cordon Bleu will reveal the great secrets of French cuisine at a series of elite cooking classes in Shanghai. Chef de Cuisine Patrick Terrien from Le Cordon Bleu Paris will show off authentic French culinary skills at his expert cooking demonstration classes in the Shanghai Business and Culinary School from June 14 to June 16, 2011.
Organised by the Ministry of Agriculture and Fishing France, Sopexa Shanghai, Shanghai Business and Culinary School and Le Cordon Bleu, the demonstrations by Chef Patrick Terrien will cover a wide range of French culinary skills and unlock the techniques behind making an array of classic French dishes.
Chef Patrick Terrien has tasted the extreme highs of success as a chef, having earned a Michelin star for his own restaurant in the city of Tours, and having cooked as sous chef under the direction of the masterly Joel Robuchon at the Nikko Hotel. His culinary talent has been underpinned by scaling the peaks of study and teaching excellence, having earned the credentials of Manifestation Internationale Gastronomique in Geneva, Diplome du Merite Culinaire from the Prosper Montagné Club, and honorary membership of the Tsuji Academy in Osaka, Japan. Chef Patrick Terrien brought this wealth of experience to Le Cordon Bleu in 1989, and has risen through the staff to become Executive Chef de Cuisine at Le Cordon Bleu Paris.
To pass on some of his vast knowledge of classic French cuisine, Chef Patrick Terrien will be conducting a series of cooking demonstrations and tasting classes at the Shanghai Business and Culinary School from June 14 to June 16, 2011.
On Tuesday, June 14, the demonstration dishes will be:
Green asparagus velouté
Beef tournedos with foie gras and truffles, apple and celery root parcels

The menu for Wednesday, June 15 will be:
Sea bass with a black olive crust, star anise sauce, confit artichokes and shallots
Cockerel fricassée with morel mushrooms

For Thursday June 16, Chef Patrick Terrien will present:
Warm lobster salad with citrus fruits
Duck breast stuffed with figs, accompanied by mushroom flan, Bergerac wine jus
Two sessions focusing on the same menu will be held each day – in mornings from 9.30am to 12.30pm, with an afternoon session from 1.30pm to 4.30pm.
The cost of each session is 480 RMB.
To register for these outstanding culinary classes, please contact Mr Sean Lin or phone 13817672872.
Celebrating culinary excellence is a hallmark of Le Cordon Bleu, one of the world's leading schools for teaching classical French cuisine, pâtisserie and boulangerie. Since Le Cordon Bleu was established in Paris, France in 1895, the organisation has earned fame and respect for maintaining the highest standards of culinary excellence. Each year, more than 22,000 students from 70 countries are trained at Le Cordon Bleu's Institutes, which now stretch through 40 schools in 20 countries, in cities from Paris, London, Tokyo, Ottawa, Seoul and Sydney to Bangkok and Mexico City.
Monsieur Andre Cointreau, President of Le Cordon Bleu International, has encouraged the development of great diversity within Le Cordon Bleu's culinary education programs, reaching beyond prestigious culinary arts certificates to also include the Advanced Diploma of Culinary Management, Bachelor degrees in Hotel Management, Restaurant Management, a MBA in International Hotel & Restaurant Management, and a Master of International Hospitality Management.
Contact:
Mr Sean Lin - Marketing Manager
Tel: 13817672872