In The News
Acclaimed Chef Hosts Culinary Demonstration
"some of the greatest cooking I've tasted this year…this woman can bloody cook."
Grace Dent, November 2014
Le Cordon Bleu London welcomed one of London's most exciting young chefs in the UK: Selin Kiazim! Having completed a critically-acclaimed six month residency at Haggerston's Trip Kitchen & Bar earlier in 2014, and formerly head chef at Peter Gordon's Kopapa, Chef Selin is on route to opening her own BBQ restaurant.
With a Turkish-Cypriot background Selin was brought up on barbecuing, so her food takes Turkish traditions and mixes them with her own unique style to create stunning dishes that have to be tasted to be believed.
The demonstration started with a talk about venison, covering the six different types of venison with Ian Damms from Deer Industry New Zealand.
Then, Chef Kiazim created two superb dishes inspired by her origins – both using venison:
Honey Glazed Venison, Charred Cabbage, Caramelised Shallot Puree, Sweet 'n' Sour Dates & Walnuts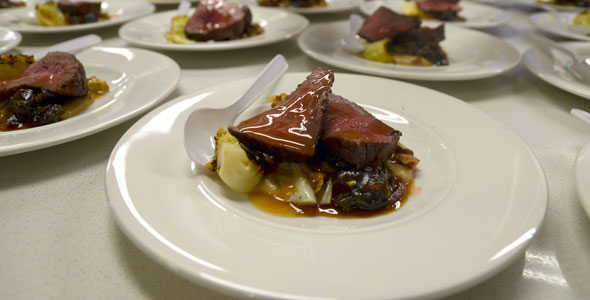 Spiced Venison, Tomato & Sherry Vinegar Sauce, Chilli Butter, Yoghurt & Pitta Bread.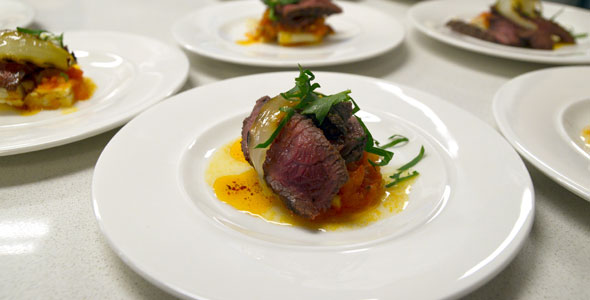 Following the demonstration, students were invited to taste the dishes and a short Q&A took place with the chef answering about her experience and cooking techniques.
Chef Selin takes her food inspiration from her Turkish-Cypriot heritage which is focused around communal eating. She is constantly pushing traditional boundaries to pull Turkish cuisine out of the kebab shop and onto the London restaurant scene.
Guest chef demonstrations are held each term to allow our students to experience and learn a variety of culinary styles from the industry's best chefs.
For more information