In The News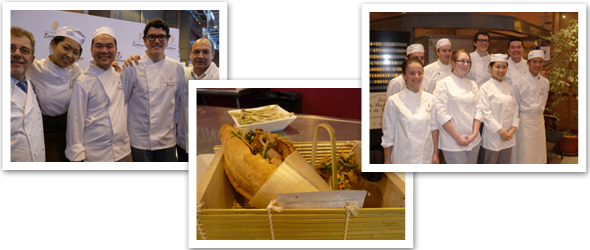 Le Cordon Bleu Paris student Darren Chin wins the Délifrance Sandwich World Cup
The Sandwich World Cup organized by Délifrance took place on February 14 at the Paris School of Bakery and Pastry (EBP).
Three Le Cordon Bleu students participated in the competition: Yukiko Ogata from Le Cordon Bleu Toyko, and, from le Cordon Bleu Paris Darren Chin (Malaysia) and Thomas Bassoleil (French-Brazilian).
Yukiko Ogata was awarded second place and Darren Chin was given first place.
The sandwich presented had to meet certain "gastronomic" criteria including flavor association, speed of preparation, and ease of assembly and consumption, as well as "nutritional" and "cost price".
Yukiko prepared a sandwich based on marinated sardines, zucchini, confit tomatoes, shiso and soft cheese. To decorate the sandwich she stenciled a sardine and zucchini outline on the top of the bread. The final touch was a lotus root. This ingredient is used to celebrate the New Year in Japan; the holes in the root represent a view of the long term or hope for the future.
Darren wanted to demonstrate how European influences are still present in South-east Asian cuisine. He prepared a sandwich of pork combined with herbs and spices, and used a julienne of vegetables to decorate. The sandwich was served in a bamboo box and was accompanied by a small julienne salad and tonka vinaigrette. Darren shared how he felt about his win "…What I wanted to really show was how the techniques I learned at Le Cordon Bleu can naturally be used with Asian ingredients. I was so proud to participate in this competition, not only for my country but also for Le Cordon Bleu. I really have to thank Chef Lesourd who coached me and Chef Poupard for his support as well as my school friends Ensan Wong, Thomas Bassoleil and Hubert Ly."
Congratulations to our students!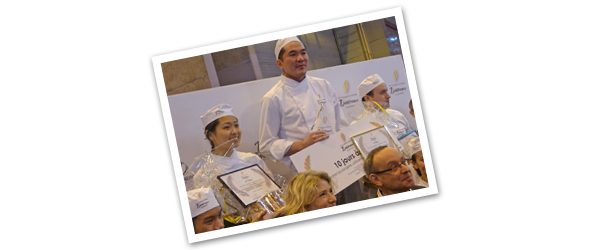 For more information