Le Cordon Bleu News, 11/04/2013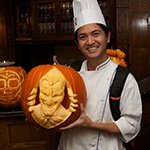 Faces carved into pumpkins and lit by candles from within are a North American tradition and are used as outdoor decorations for homes on Hallowe'en night. Some carvers choose a very simple design, while others carve veritable works of art in this medium.

This fall, Le Cordon Bleu Ottawa campus held a pumpkin carving contest of our own. Our students, many of them first-time carvers, stepped up to the challenge and delivered a lineup of fun and scary designs. Take a look at the photos!