In The News
Technique : Making nougatine
Nougatine is made from golden caramel, mixed with toasted sliced almonds, and the addition of glucose to keep it malleable. Professionals usually cook the sugar in a copper pan, before adding the nuts. During cooking, the nougatine is soft and malleable in texture and golden yellow in color. When cooked, it breaks easily and becomes difficult to handle. To make best use of the nougatine and to shape as desired, it must be handled while still hot to avoid softening and surface color defects. It is possible to replace the almonds in the nougatine with any other type of nuts or grains such as hazelnuts, sesame seeds, walnuts, or peanuts.
Nougatine is generally used for assembling elaborate cakes, decorating in pastry or for making candy.
Le Cordon Bleu explains the technique, step by step, through this basic nougatine recipe that can be reused whatever the circumstances.
Adapt this version of nougatine using the ingredients shown in the recipe of your choice.
Nougatine
100 g to 150 g sliced almonds
100 g sugar
50 ml water
50 g glucose
| | | |
| --- | --- | --- |
| | | |
| Preheat the oven to 90 °C and gently toast the sliced almonds for 15 minutes. In a copper pan, dissolve the sugar in the water and bring to a boil. Add the glucose and cook until a golden caramel color (golden yellow). | Add the warm toasted sliced almonds. | On an oiled work surface, roll out the hot nougatine to 5 mm in thickness and let cool to room temperature. |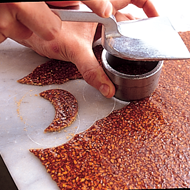 Cut out nougatine shapes or decorations according to the required usage.
Note: To keep the nougatine at its best, do not expose it to humidity.
Use a light caramel to stick or assembly pieces of nougatine together.
This technique was used in the following recipes:
For more information