In The News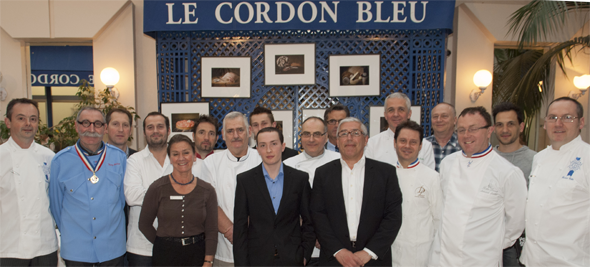 Paris Gourmand
Le Cordon Bleu Paris was honored to welcome a group of Parisian master craftspeople - butchers, charcutiers, bread makers, cheese makers, and pastry chefs - for the launch of "Paris Gourmand" on April 2.
In this book, master craftspeople share their unique know-how and passion as they tell their life story and reveal some of the secrets of their trade.
During the evening, the Le Cordon Bleu and its Chefs were delighted to be reunited with Bruno Josselin, a Le Cordon Bleu alumni of 1992, now owner of the charcuterie/delicatessen "Josselin" on Rue Clerc in the 7th arrondissement, as well as ex-Chef Instructor Laurent Duchêne (MOF), owner of Pâtisseries Laurent Duchêne, rue de la Convention in the 15th arrondissement and rue Wurtz in the 13th arrondissement.
"Paris Gourmand" is the story of thirty craftspeople, their boutiques and their star products, with portraits and illustrations by Gérard Cambon, author and photographer. Claire Delbos, food author, provides skillful commentary. Both writers also worked together to publish "Bistrots de Chefs à Paris" in 2006, republished in 2009 and 2011 by Déclics – Petit Futé.

Additional information:
Paris gourmand. Beaux livres Déclics - Groupe Petit Futé.
Format 25 x 18 cm - 144 pages, case bound, individually wrapped. Retail price: €18.90
Also available at www.petitfute.fr

For more information