Le Cordon Bleu News, 02/07/2011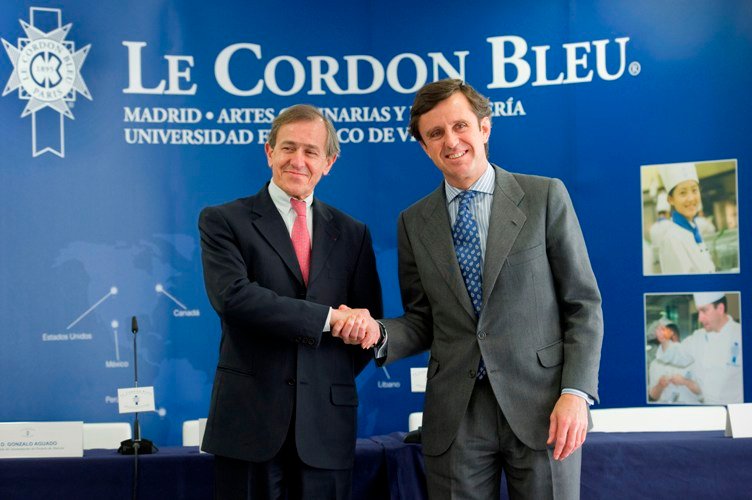 Mr. André Cointreau and Mr. Daniel Sada
Le Cordon Bleu Madrid was the focus of attention on Thursday, February 3, 2011 during the inauguration of the school in the presence of important Spanish personalities, journalists, Le Cordon Bleu alumni, food-lovers, and friends of the gastronomy world who attended the event.

Daniel Sada Castaño, Rector of the University Francisco de Vitoria and André Cointreau, President of Le Cordon Bleu, presided at the inauguration ceremony accompanied by the Ambassador of France in Spain, Bruno Delaye and Mayor of the town of Pozuelo de Alarcón, Gonzalo Aguado.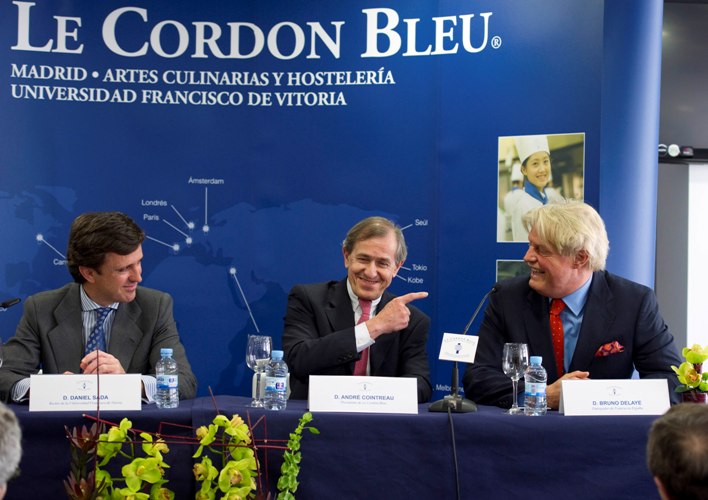 Mr. Daniel Sada, Mr. André Cointreau and Ambassador Bruno Delaye

Important Spanish chefs such as Victor Enrich, Diego del Río (graduates of Le Cordon Bleu Paris), Cesar Martín and Saúl Sanz, together with representatives and directors of major restaurant and hotel chains and catering companies, also attended the event.

The rector of the University stated that Le Cordon Bleu and the University Francisco de Victoria have further plans to soon deliver bachelors and masters programs as well as developing a research center in collaboration with other faculties of the university. Daniel Sada also foresees that the university's Biotechnology laboratories could work with Le Cordon Bleu to continue the development of new programs and to create a special oenology curriculum in conjunction with a wine cellar in Ribera del Duero, Valladolid.
There are also plans to open a training restaurant on the University campus, as well as a department to help young entrepreneurs build small businesses in the culinary sector.  A further editorial project is currently being developed with publications related to culinary themes in direct synergy with Le Cordon Bleu, which has already sold more than 8 million copies of its publications in the past 10 years.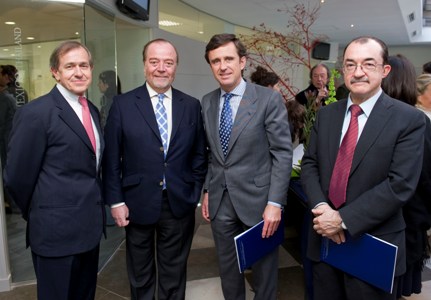 Mr. André Cointreau, Mr. Gonzalo Aguado, Mr. Daniel Sada and Mr. Fernando Canal, director of Le Cordon Bleu Madrid

"Le Cordon Bleu is a kind of a small international university" said Mr. André Cointreau, President of Le Cordon Bleu, speaking about the culinary institution that has over a century of history and is present with 35 schools in 15 countries, training every year more than 23,000 students of 70 nationalities. Mr. Cointreau also added "… the development of gastronomy depends on appropriate training and the existence of schools that specifically teach culinary techniques. This is the strength of our institution, even though France claims to have codified cuisine and pastry, the techniques are put to the service of all cuisines of the world". Further to this and with the takeoff of Spanish gastronomy, Le Cordon Bleu has decided to settle its third European school in Madrid in addition to its schools in Paris and London.
To learn the culinary arts at Le Cordon Bleu is a dream for any student wanting to become a chef. Le Grand Diplôme combines both the cuisine and pastry disciplines. Recognized at an international level, this program is considered to be the most complete training in French culinary techniques.
Some famous graduates of Le Cordon Bleu are Gastón Acurio, Julia Child, Natalie Silverton, the Bromberg Brothers, Allen Susser, Giada de Laurentiis and Ming Tsai.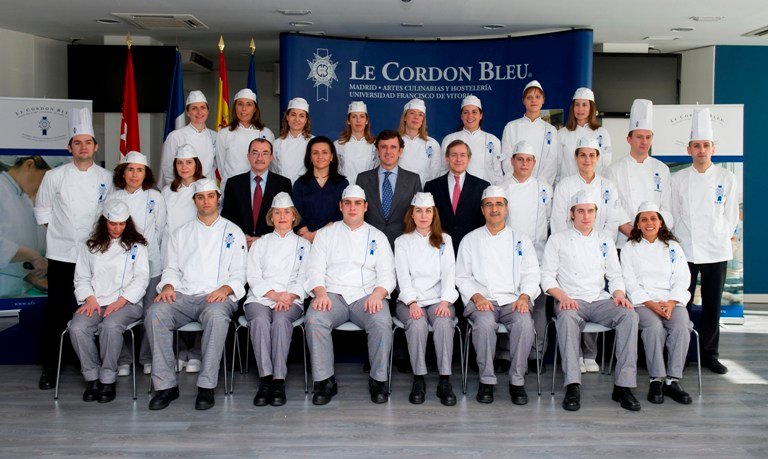 First Class January 2011 Le Cordon Bleu Madrid

The first class of students has already commenced training in Madrid. Many future students dreaming to enter into the world of gastronomy will be able to now benefit from the presence of Le Cordon Bleu Madrid.

For more information