In The News

"Note À Note" Menu For The Programme Of L'Institut Des Hautes Études Du Goût At Le Cordon Bleu School Paris
On 15 October 2011, in the presence of Hervé This, the physical-chemist and the co-creator of molecular gastronomy, Le Cordon Bleu chefs prepared a "Note à Note" menu for guests at the Institut des Hautes Etudes du Goût - HEG, Université de Reims Champagne Ardennes (Institute of Advanced Studies in Taste, University of Reims Champagne Ardennes).
'Note à Note' cuisine uses chemical compounds to recompose the form, consistency, aroma, colour and flavour of particular dishes. All traditional references to meat, fish, fruit and vegetables are forgotten. Revolutionary combinations are developed from ethanol, lactose, fructose, gluten, polyphenols, saccharose and so on, with the aim of imitating the desired dish in the most interesting manner.
Hervé This, who concocted the dinner in association with Le Cordon Bleu Chefs, says: "At a certain point, the menu indicated the word "viande"(meat): so we all compared what we were served with meat... whereas the Chefs had very inventively mixed amylose with gelatine, to give a half vegetable-half-animal consistency, unknown and remarkable. In another example, the menu evoked "mozzarella" as the "cheese" course (another evocation): the consistency of the food served was nothing like mozzarella (it was much better), but we all made the comparison. The first course was composed of a soft yellow sphere in a beaten white "nest": we couldn't help thinking of eggs... especially as the menu mentions "meurette" (eggs in a red wine sauce). This dish (which was the first one served), had a slight acidity... which was disturbing for an egg... but much less so than in a salad. On what grounds would we have judged that the dish was too acid, or not acid enough? All in all, this was a really astonishing dinner because for a time we lost our bearings."
The first "Note à Note" meal was presented and served by Pierre Gagnaire in Hong Kong in 2008. The Chefs of Le Cordon Bleu School in Paris revealed their first "Note à Note" meal in October 2010 for the opening session of the Hautes Etudes du Goût programme. Last January Jean-Pierre Biffi and his team also presented a "Note à Note" meal to celebrate the start of International Chemistry Year.
Le Cordon Bleu Chefs who participated in this remarkable dinner were Patrick Terrien, Philippe Clergue, Patrick Caals, Frédéric Lesourd, Bruno Stril, Marc Thivet, Franck Poupard, Patrick Lebouc, Jean-François Deguignet, Xavier Cotte, Nicolas Jordan and Jean-Jacques Tranchant.
Hervé This is a physical-chemist with the Molecular Gastronomy Group at the Chemistry Laboratory of AgroParisTech and is the co-creator, with Nicholas Kurti, of the scientific discipline known as molecular gastronomy. Hervé This has also been charged with several missions by the French Ministries for Education, Research and Industry: investigation research into improving the teaching of culinary techniques, the introduction of experimental taste workshops in primary schools, the creation of the teaching programme of the Institut des Hautes Etudes du Goût, de la Gastronomie et des Arts de la Table in partnership with Le Cordon Bleu.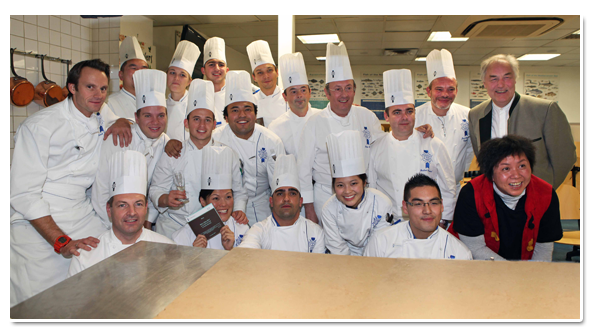 Click here to view or download this year "Note À Note" menu
For more information