In The News

The Cordon Bleu Madrid Celebrates The Graduation Of Its First Class
With Chef Mario Sandoval As Their Sponsor
The prestigious culinary arts institute, which opened its doors in an alliance with Madrid's Universidad Francisco de Vitoria last January, delivers its first Grand Diplôme and Cuisine and Pâtisserie diplomas.
Pozuelo de Alarcón (Madrid), September 2011 - After nine months of demanding and rigorous work, the students of Superior Cuisine and Pâtisserie will receive their diplomas and Grand Diplôme qualifications. During the ceremony, which will be celebrated on Friday, September 30, at the campus of the Universidad Francisco de Vitoria (Pozuelo de Alarcón), the graduates will be awarded a diploma that is acknowledged worldwide and that differentiates them for life. At the same time, Basic and Intermediate level students will receive their certificates.
For the occasion, Le Cordon Bleu Madrid will count on the renowned Spanish chef Mario Sandoval as sponsor. Recipient of a Michelin Star since 2003, he will share with the students the experience of making a dream come true.
Le Cordon Bleu Madrid became the third European school of the prestigious French institution just a few months ago and now everything is prepared to welcome its fourth student cohort. On Monday, October 3rd, the new Cuisine and Pâtisserie students will start their programs at the school
Le Cordon Bleu Programs are consider to be the most intensive and comprehensive training in classic French cuisine and pastry techniques. Their focus, on mastering technical skills, has made Le Cordon Bleu a worldwide leader in culinary and hospitality education. The institution has 40 schools in 20 countries that foster a unique multi cultural environment with students coming from 70 nationalities.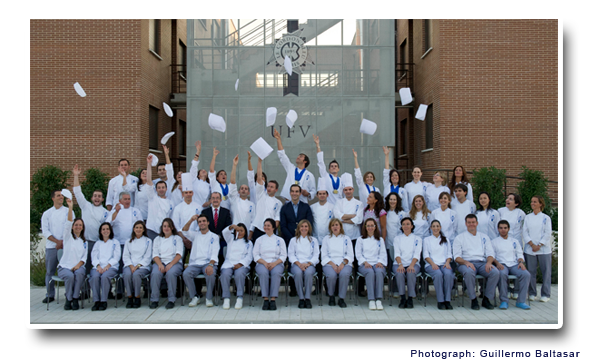 For more information