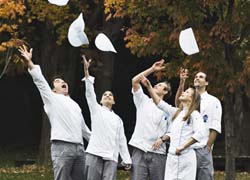 'Le Cordon Bleu' means excellence in anyone's language.
Founded in 1895, France, Le Cordon Bleu has a network of more than 20 countries with over 20,000 students graduating each year. Le Cordon Bleu has produced many famous graduates, including American legendary chef; Julia Child, Nancy Silverton and James Peterson etc. Le Cordon Bleu alumni are globally recognized as the leader in culinary and hospitality fields. In Korea, Huijung Jeon (Advisory Professor in Sookmyung Women's University), Wookjung Lee (KBS documentary Producer) alongside other famous alumni, have achieved a successful career and lead the culinary industries in Korea with the name of Le Cordon Bleu.
This is the year of Le Cordon Bleu's 120th celebration. The Korea campus, Le Cordon Bleu-Sookmyung Academy, will hold an alumni gathering. Alumni from Le Cordon Bleu entities, and those living in Korea can participate in the association. A pre-meeting will be held sometime in October 2015.
Alumni may be able to access to resources and benefits including networking opportunities, discount programs, special events, and more.
Please, join the distinguished Le Cordon Bleu global alumni network!