In The News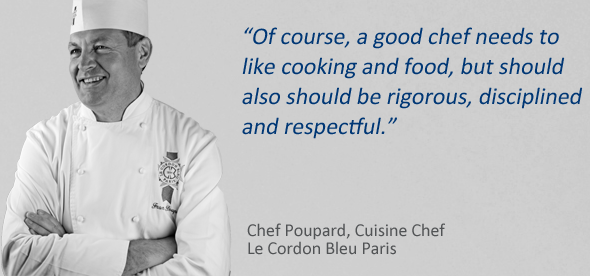 Interview with Franck Poupard
Chef Poupard worked in renowned kitchens in Normandy, Geneva and London like for example Le Dauphin, La Table Ronde, Le Grill du Parc, Le Président Wilson, Harrod's and The Georgian Restaurant. He is now a chef instructor at Le Cordon Bleu Paris. A chance to meet the chef!
Where did your passion for cuisine come from?
I grew up in a family who worked in the restaurant industry and this was what made me want to enter the profession.
Were you ever inspired by a chef during your career?
I have been inspired by all the chefs I have worked alongside throughout my career
It is interesting to see that you have worked in London and Geneva, what did you get out of these experiences?
I got a chance to discover a wide diversity in cuisine, and also to learn different customs and appreciate many human qualities. I worked on fusion cuisine, which combines french culinary techniques with local ingredients.
What is the culinary creation you are most proud of?
There isn't any particular creation that I am proud of; it is only important to always to do what you like doing.
What do you believe are the essential qualites needed to become a good chef?
Of course, a good chef needs to like cooking and food, but should also should be rigorous, disciplined and respectful.
What advice would you give to someone who wants to become a chef?
I would advise them to always be consistent in the kitchen and respect others.
How do you see the future of the profession?
I think that the cuisine sector is constantly evolving, but will always be based around classic culinary techniques.
On another note, what is your favorite dish, personally speaking?
I don't have any particular favorite dish. Generally I do prefer meat to fish, though.
And on the dessert front?
I like desserts made in the simplest way, like seasonal fruit tarts.
Is there an ingredient that you especially like working with?
There are many ingredients I like working with, tomatoes being among them. The recipe for 'tomato three ways 'is a good example.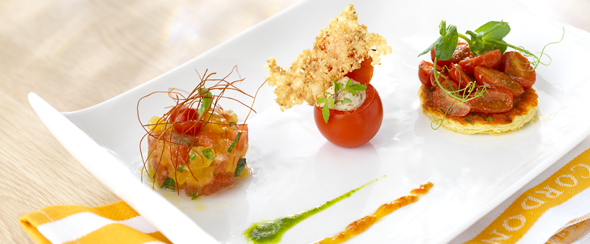 What can often be found in your 'fridge?
You'll find different sorts of spices, butter, yoghurts and vegetables. There are always vegetables!
Leaving aside French, what is your favorite cuisine?
I enjoy Thai and Moroccan cuisine, for the way they use spices in perfect harmony, quantity and balance.
As someone originally from Normandy, what are your favorite Normandy specialties?
I like dishes based on tripe sausage, blood sausage and seafood.
Thank you , chef, for giving us this interview.
For more information