In The News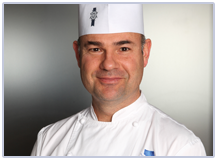 Masterclass with Chef Olivier Mahut
Potential students in India will be treated to a very special cooking demonstration on the 20th and 22nd September at GD Goenka University.
Le Cordon Bleu Paris based Chef Olivier Mahut will be showcasing the recipes and techniques for classic French Pâtisseries for students with an interest in a culinary career.
Chef Mahut, originally from the French region of Alsace, has cooked in some of the world's premier establishments, including the ornate Trianon Palace in Versailles, outside Paris, as well as many years in the US. Now an instructor at Le Cordon Bleu Paris, his visit to India will be a wonderful chance to share his experience with an enthusiastic crowd.
Join Chef Mahut on the 20th September for a masterclass in creamy French delicacies such as mini choux, éclairs, and chouquettes. Or if you attend Chef Mahut's masterclass on the 22nd September, you will learn the art of the classic French Tarte aux Fruits, or Fruit Tart.
Date & Time:


20th September 2014
Time:
13:00 - 15:00
Venue:
GD Goenka University
G D Goenka Education City
Sohna Gurgaon Road
Sohna, Haryana
Date:


22nd September 2014
Time:
13:00-15:00
Venue:
GD Goenka University
G D Goenka Education City
Sohna Gurgaon Road
Sohna, Haryana
For more information