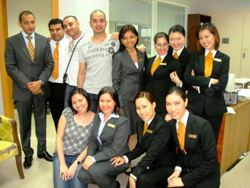 Hay Mun (Heidi) Kwan successfully completed the Bachelor of Business (International Hotel & Resort Management) in 2009; she completed her first Professional Experience component at the Stamford Plaza Brisbane in the position of Room Attendant. For her second Professional Experience Heidi decided to go abroad. With the assistance from the Professional Industry Placement team Heidi secured a position within the Fairmont Dubai, in the role of Guest Services Agent in the Front Office department.
Dubai is a recently established destination for Professional Experience due to the continued relationship development Le Cordon Bleu has with leading hotel brands. Heidi "recommends more students to have internships in Dubai" as her experience was "so valuable and one of a kind."
After graduation Heidi worked as a receptionist at the JW Marriott Hotel, Hong Kong. While there she was approached by the Manager at the Fairmont Dubai who asked to have her back. Heidi was delighted and promptly made the move back to Dubai where she is now working as the Fairmont Gold Concierge on the Executive Floor, taking care of all the Fairmont members and VIP's.
Heidi says "It was so nice to see familiar faces and even the guests remember me; I am so impressed! I am enjoying my life here so much and it feels so good working in a great company which values my ideas and every single effort we make. I am planning to develop my hospitality career here in Dubai as there are tons of great opportunities in the Middle East!"
Le Cordon Bleu would like to commend Heidi for her dedication and outstanding contribution to the Hospitality Industry – well done!