In The News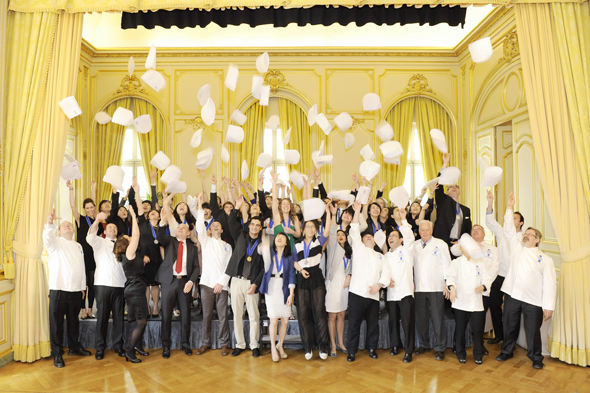 Le Cordon Bleu Paris graduation ceremonies
Le Cordon Bleu Paris graduation ceremonies took place on March 20 and 21, 2012.

Students who passed basic and intermediate levels received their certificates in a ceremony that took place at the school.
The diploma ceremony took place at the prestigious private club "Le Cercle de l'Union Interalliée". Dr. Nicholas Baker, Austrade, Trade and Investment Commissioner & Education Manager Europe, accepted our invitation to be a class patron. Students and guests enjoyed a warm and convivial cocktail which followed the ceremony.
We are proud to announce the top students from each level:
Basic Cuisine
1st: Federico Kuhrmeier, Switzerland
2nd: Kazumi Kawata, Japan
3rd: Eric Priestley, United States
4th: Pedro Dias Carvalho, Portugal
5th: Eun Hye Song, South Korea
Basic Pastry
1st: Bianca Davies, South Africa
2nd: Meeta Champaklal, Malaysia
3rd: Paul Wiarda, United States
4th: Natalia Duque-Urrea, Colombia
5th: Yiwei Dong, China
Intermediate Cuisine
1st: Ah Young Yoon, South Korea
2nd: Rodrigo Saraiva, Brazil
3rd: Soohee Kim, South Korea
4th: Jong-In Park, South Korea
5th: Jin Myoung Jeon, South Korea
Intermediate Pastry
1st: Talita Setyady, Indonesia
2nd: Camille Mansouri, France
3rd: Julie McMahon, United states
4th: Ting Ting Chang, Taiwan
5th: Narges Gheissari, Switzerland
Superior Cuisine
1st: Darren Chin Yau Fai, Malaysia
2nd: Deborah Smidt, United States
3rd: Jessica Yijin Yoon, Canada
4th: Julie Van Hassel, Belgium
5th: Ghazaleh Samandari, United States
Superior Pastry
1st: Mikaela Rain Carruthers-Hogg, Australia, Mention Bien
2nd: Sandy Shih Heng Tsang, Canada
3rd: Amber Koh, United States
4th: Nathalie Bayliss, Canada
5th: E-Lin Boh, Singapore
Congratulations to all of our students! To our Alumni moving on to an internship or entering the professional world, keep up the good work! All those continuing their program, keep your determination and motivation.
See the Picture Gallery
To acquire pictures from the graduation ceremony please click here (students access codes have been given the day of the ceremony).

For more information