In The News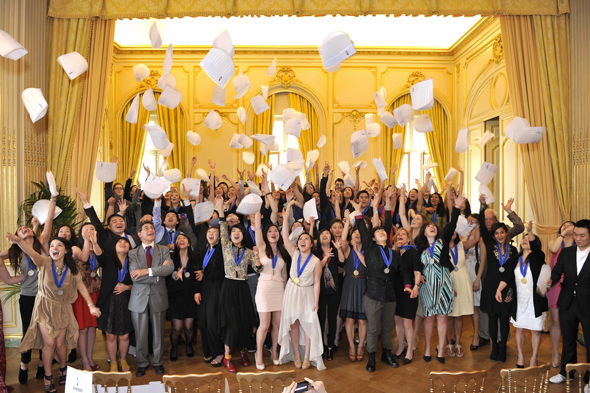 Le Cordon Bleu Paris graduation ceremonies
Le Cordon Bleu Paris Certificates and Diplomas graduation ceremonies took place on June 7 and 8, 2012.
Students who passed basic and intermediate levels received their certificates in a ceremony that took place at the school.
The diploma ceremony took place at the prestigious private club "Le Cercle de l'Union Interalliée". For this special day, Mr. Rémi Krug, former President of the Krug Champaign House, President of the Institute for Advanced Studies in Taste (HEG) and founder of RK Council, accepted our invitation to be a class patron. Students and guests enjoyed a warm and convivial cocktail which followed the ceremony.
We are proud to announce the top students from each level:
Basic Cuisine
1st: Teagan Schweitzer, United States
2nd: Zsuzsanna Borsos, Hungary
3rd: Mi Na An, South Korea
4th: Rebecca Bremer, Germany
5th: José Antonio Rivero Jr., Mexico
Basic Pastry
1st: Hélène Maingueux, France
2nd: Zsuzsanna Borsos, Hungary
3rd: Zuriati Balian, Singapore
4th: Yen-Ju Liao, Taiwan
5th: Bernadette Guerrero Atienza, United States
Intermediate Cuisine
1st: Cassandra Kosturos, United State
2nd: Kazumi Kawata, Japan
3rd: Anna Safronova, Russian Federation
4th: Deborah Franciscato, Brazil
5th: homas Bassoleil, Brazill
Intermediate Pastry
1st: Cassandra Kosturos, United States, (Mention Bien)
2nd: Andreja Juknevicius, Canada
3rd: Laysa Ditzel Durski, Brazil
4th: Aliénor Clot, Canada
5th: Suree Krittanont, Thailand
Superior Cuisine
1st: Rodrigo Saraiva, Brazil, (Mention Bien)
2nd: Jong-In Park, South Korea
3rd: Laura Chane-Chu, France
4th: Jin Myoung Jeon, South Korea
5th: Gregor Henri Walter Pielsticker, France
Superior Pastry
1st: Talita Setyady, Indonesia
2nd: Camille Mansouri, France
3rd: Julie McMahon, United States
4th: Claudia Miranda, Mexico
5th: Ting Ting Chang, Taiwan
Congratulations to all of our students! To our Alumni moving on to an internship or entering the professional world, keep up the good work! All those continuing their program, keep your determination and motivation.
See the Picture Gallery
To acquire pictures from the graduation ceremony please click here (students access codes have been given the day of the ceremony).

For more information