In The News
Le Cordon Bleu Paris graduation ceremonies
Le Cordon Bleu Paris graduation ceremonies took place on December 15 and 16, 2011. The graduation for the basic and intermediate cuisine and pastry levels was held at the school.
The superior level ceremony took place at the prestigious private club Le Cercle de l'Union Interalliée. For this special day, S.E. Madame Rosemary Banks, Ambassador of New Zealand to France was the patron of the class.
In 2011 Le Cordon Bleu has strengthened its relationship with New Zealand for the opening of a new school in Wellington.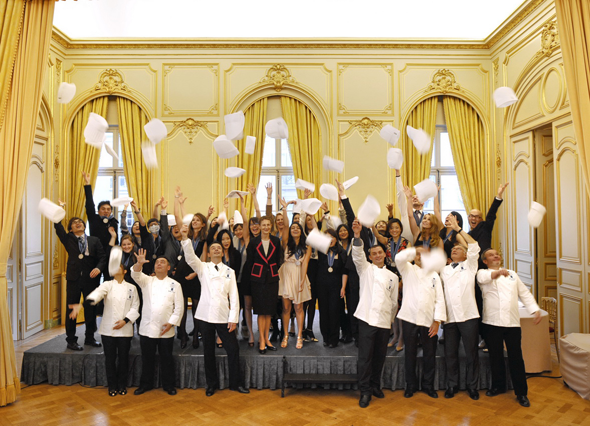 We are proud to announce the top students from each level:
Basic Cuisine
1st: Camille Moore, Canada
2nd: Grace Hutson, United Kingdom
3rd: Ying Li, China
4th: Jaime Floid Molina Bellver, Spain
5th: Catherine Cox, United States
Basic Pastry
1st:Victor Shevchenko, Russia
2nd: Pui Ying Pansy Ng, Hong Kong
3rd: Forough Vakili, United States
4th: Robert Aaron Weber, Canada
5th: Ayako Mitsubori, Japan
Intermediate Cuisine
1st: Tzu-Yen Wang, Australia
2nd: Georgios Stakias, Greece
3rd: Julie Van Hassel, Belgium
4th: Hiroshi Dejaeghere, Belgium
5th: Thomas Gillespie, Norway
Intermediate Pastry
1st: Mikaela Rain Carruthers-Hogg, Australia
2nd: Denise Tay, Singapore
3rd: Tereza Alabanda, Croatia
4th: Sandy Shih Heng Tsang, Canada
5th: Amber Koh, United States
Superior Cuisine
1st: Marie-Louise Li, United Kingdom
2nd: Leonhard Becker, Germany
3rd: Ding Ding, China
Superior Pastry
1st: Nadine Kano, United States
2nd: William Mercier, France
3rd: Winnie Wing Yee Pang, Australia
Congratulations to all of our students! For those of you who are not attending the next level we hope to see you in the near future and for those who continue, keep up the good work!
See the Picture Gallery
To acquire pictures from the graduation ceremony please click here (students access codes have been given the day of the ceremony).

For more information