In The News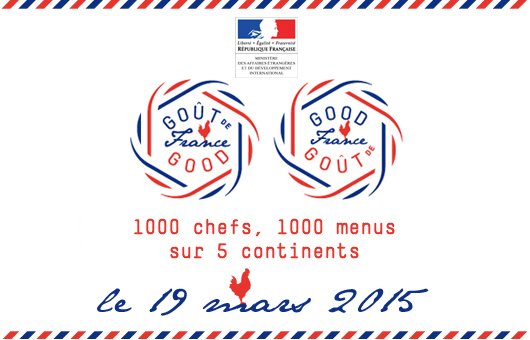 Le Cordon Bleu participates in the world tribute to the French culinary arts
On Thursday March 19, 2015, Le Cordon Bleu joins the "Goût de France / Good France" event to promote French Gastronomy across the world, upon the initiative of the French Ministry of Foreign Affairs and International Development.
This one day worldwide event aims to pay tribute to the excellence of French culinary tradition in more than 1,300 restaurants - including Le Cordon Bleu - and in French Embassies, highly involved in the organization and promotion of this celebration.
For this occasion, Le Cordon Bleu will collaborate with many French Embassies through its Chefs and students to emphasize the contribution of French cuisine to World Heritage.
According to the Minister Laurent Fabius, "France's heritage is its cuisine, its wines, (...). The Gastronomic meal of the French has been listed with UNESCO World Heritage since 2010… it is a heritage that should be built upon and shining..."
"Le Cordon Bleu is delighted by this initiative and is naturally taking part…" comments André Cointreau, President of Le Cordon Bleu International. "…Indeed, with 120 years of teaching experience, Le Cordon Bleu successfully achieves its mission of transmission and influence of French gastronomy through its network of over 50 schools, located in 20 countries that award each year more than 20,000 culinary arts certificates. The students trained at Le Cordon Bleu are tomorrow's Chefs and consequently become the "ambassadors" of French culinary arts, its culture and values. This is the reason why, Le Cordon Bleu has served on the Alliance Française board of directors for the past 22 years".
Each year on an international level, Le Cordon Bleu Chef Instructors take part in hundreds of events and gala dinners organized by diplomatic representatives or local public authorities. Le Cordon Bleu not only contributes to the success of the French culinary arts but also focuses on serving local ingredients, students and cuisine for their own market.
Le Cordon Bleu international developments are continuously increasing, for instance, with a school opening in Shanghai on June 8. This is the first joint-venture agreement in the training sector signed between the Chinese government and a private European entity. The government of Rio de Janeiro also requested a partnership and Le Cordon Bleu inaugurates its school on August 1, in preparation for the Olympic Games in 2016. In the meantime, with a double digit growth rate, Le Cordon Bleu is preparing a major project in France.
Le Cordon Bleu, one of the worldwide leaders in culinary arts education, also offers internationally, Bachelors, Masters and MBA degrees in hospitality and tourism management. Le Cordon Bleu serves the savoir-faire of the French culinary arts, contributing to showcasing the French economy, language and culture.
For more information