In The News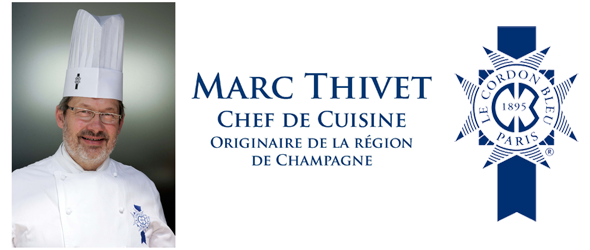 Goodbye Chef Thivet!
On Wednesday February 29, 2012, Le Cordon Bleu Paris bid an emotional farewell to one of our star Chefs, who is now retiring - Chef Marc Thivet.
A native of the Champagne region and an expert in Mediterranean cuisine, Chef Thivet has had an impressive career:
The Prince of Wales Hotel in Paris, The Royal Hotel in Deauville, Loews Hotel in Monaco and the Grand Hotel and Casino in Enghien Les Bains
The Café de la Paix and Bristol Hotel in Paris
Head Chef at the International Hilton Hotel restaurant in Paris
Head Chef at the Dôme – 1* in Paris, the Métropole Palace in Monaco and the Palais Maeterlinck in Nice
Winner of the National Cuisine and Pastry Trophy 1983
Finalist in the International Pierre Taittinger Prize in 1985
Silver medalist in 1986, Vermeil Medal from the city of Paris 2012
Winner of the International Palace Head Chef Trophy, Ixtapa, Mexico 1994
Member of the French Culinary Academy
Bronze, Silver and Gold medals from the French Chefs' Society
Administrator for the French "Mutuelle des Cuisiniers"
Chef Instructor at Le Cordon Bleu Paris from 1999 to 2012
The Paris Le Cordon Bleu team would like to extend sincere thanks to Chef Thivet for the 13 years he has shared with us.
Chef Thivet, we'll never forget your great "petites histoires "!


For more information