In The News

Le Cordon Bleu Paris Graduation Ceremony – March 2014
The first 2014 session Le Cordon Bleu Paris graduation ceremony took place on March 21, 2014. The ceremony was held at the prestigious 'Cercle de l'Union Interalliée' with graduate's family members and friends. On this special day, Le Cordon Bleu was honored to welcome Chef Pierre Gagnaire as class patron.
Pierre Gagnaire and Patrick Terrien, Chef Instructor at Le Cordon Bleu Paris, has been friends for more than 40 years. They both have witnessed the evolution of French Cuisine, from Cuisine to Nouvelle Cuisine, Molecular gastronomy and "Note to Note" Cuisine with Hervé This.
Chef Patrick Terrien introduced Chef Pierre Gagnaire like "a musician and a composer in Cuisine, and a pioneer of Nouvelle Cuisine". Chef Pierre Gagnaire highlighted the importance of the work, perseverance and patience. He also added "To build a career, you need to maintain your relationships, to be yourself and believe in yourself. And never forget that the world is full of opportunities".
This class was composed of 74 students, come from 25 countries.
We are delighted to announce the top of the graduates, from each level of first 2014 session:
Basic Cuisine


1st: Kai Olga Martynovska, Ukraine
2nd: Jean He, United States
3rd: Montana Pawittranon, Thailand
4th: Mariana Chedid, Australia
5th: Daniela Bieder, Switzerland

Basic Pastry


1st: Natasa Jokic, Croatia
2nd: Mariana Chedid, Austrialia
3rd: Xindi Lin, China
4th: Young Mi Han, South Korea
5th: Damla Ander, Turkey

Intermediate Cuisine


1st: Lynette Andersson, Australia
2nd: Benjamin Kamu, Finland
3rd: Yuan Cai, China
4th: Nicolas Rodriguez, France
5th: Kai Siang Yeo, United States

Intermediate Pastry


1st: Jennifer Pogmore, United Kingdom
2nd: Paroma Ahuja, India
3rd: Yasuki Kitano, Japan
4th: Xin Jin, China
5th: Fatima Zahra Souha, Morocco

Superior Cuisine


1st: Yasuko Ishikawa, Japan
2nd: Jeehee Ha, South Korea
3rd: Adolfo Zuberbuhler, Argentina
4th: Hannah Van de Ruit, United Kingdom
5th: Flávia Cipriano, Brazil

Superior Pastry


1st: Mika Wulff, Denmark
2nd: Tian Zhuang, China
3rd: Özge Gultekin Muz, Turkey
4th: Tatiana Alekseeva, Russian Federetion
5th: Ana Carolina Mattos Koglin Garcia, Brazil
Le Cordon Bleu Paris congratulates all students! We wish our graduates every success. Best of luck to those who are pursuing internships or other professional projects.
Photos of the graduation ceremony are available online. To see them, visit our photo gallery:

You may purchase photos taken during graduation by clicking here (all students were given the access codes on the day of the graduation ceremony).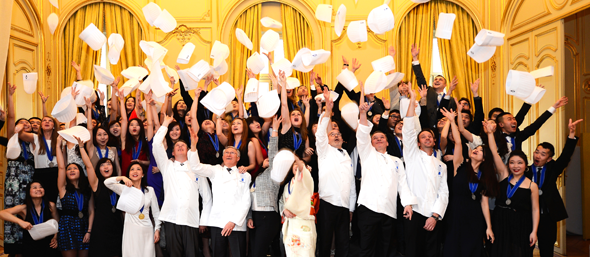 For more information