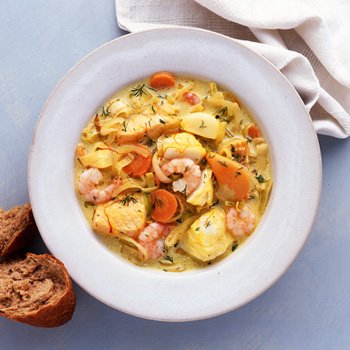 Serves: 4
Preparation Time: 15-20 minutes
Cooking Time: 35 minutes
Method:

1. Thinly slice the onion, carrots and leeks. Melt the butter with the oil in a large saucepan or flameproof casserole. Add the sliced vegetables, cover and cook over low heat for 15 minutes. Stir occasionally during this time.

2. Stir in the wine and bubble briskly until evaporated, then add 900 ml ( 1 ½ pints) water and the saffron. Bring to the boil. Season, cover and simmer for 15 minutes.

3. Cut the white fish and salmon into 5 cm (2 inch) cubes. Separate the corals from the scallops, then cut off and discard the rubbery muscles. Cut the scallops in half. Add the white fish and salmon to the soup and barely simmer for 3 minutes. Add the prawns, scallops and corals and simmer for 3 minutes only.

4. To serve: Sprinkle in half the dill and add the cream. Shake the pan gently to mix without breaking up the fish. Serve hot, sprinkled with the remaining dill.

Chef's tips:

This is a very special main-meal soup with a delicate but absolutely delicious flavour. Serve it for a Scandinavian-style Sunday lunch or supper party. It can be spooned over boiled rice in deep soup plates, or served solo with crusty French bread.

This is the perfect dish for entertaining because the cooking liquid actually improves in flavour if made the day before. Cook it up to the end of step 2, let it cool, then cover and refrigerate overnight. Before serving all you need to do is bring all the liquid to simmering point and continue from the beginning of step 3.