In The News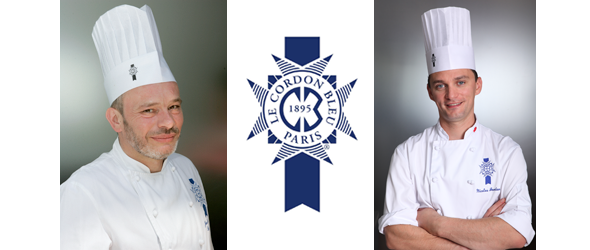 Le Cordon Bleu joins the 2012 Europain Exhibition
Europain is a unique worldwide event showcasing solutions for baking, pastry-making and foodservice professionals. It is an ideal opportunity to find out about current trends in pastry and breadbaking.
Chef Nicolas Jordan and Chef Jean-François Deguignet – Chef instructors at Le Cordon Bleu Paris – will be carrying out demonstrations in the Art of Sugar from Saturday March 3 to Tuesday 6 at the Le Cordon Bleu stand.
Visit our stand and find out more about what's in store in 2012 at Le Cordon Bleu.
Date:
March 3-7, 2012
Time:
From 9:30 am to 6:30 pm
Venue:
Parc des expositions
Paris, Villepinte
Hall 4 and 5
Additional information:
Stand Le Cordon Bleu Paris
Rue des Ecoles
Hall 5 - Stand U56

Special events at Europain:



International Confectionery Art Competition


Visitors keen to witness a captivating event can follow this exciting competition in which teams of mixed doubles from 16 countries will go head-to-head!
March 3-6 – 9:30am to 6:00pm, The Cube, Hall 5



The Bakery World Cup


With 36 candidates from 12 countries, this is the most prestigious international bakery contest. The event puts Europain on the map, providing an exceptional opportunity for the world's most talented bakers to express themselves while gaining international exposure.
March 3-5 – 9:30am to 6:00pm, The Cube, Hall 5



The French Schools Cup


The spotlight is on the next generation in this traditional bakery and pastry contest for young trainees, which aims to promote the transmission of expertise.
March 3-7 – 9:30am to 6:00pm, The Cube, Hall 5

This year Europain will also host a new exhibition – SuccessFood. This trade show is dedicated to trends in food and drink consumption. Its aim is to help you to create your concept or rethink your range of products, services, or equipment.

Other special events at the SuccessFood exhibition



The Bocuse d'Or:


the French selection of the Bocuse d'Or.
www.bocusedor-europe.com
March 4 and 6 - 9:30am to 6:00pm, Joel Robuchon Arena, Hall 5



The European cup, selection for the World Pastry Cup

:
the best national teams push their creativity to the limits.
www.cmpatisserie.com
March 7 - 9:30am to 6:00pm, The Cube - Joel Robuchon Arena, Hall 5


For more information