In The News

Culinary Voices: France and Australia exchange ideas
On 1st October 2013, Le Cordon Bleu Paris, in partnership with Advance France, hosted the 5th Annual Speaker Event. The evening revolved around interactive and friendly discussions about trends, concepts and innovations in the culinary world.
Four specialists with an Australian connection shared their points of view:
Bénédict Beaugé, food writer and journalist
Marc Vaca, Le Cordon Bleu Paris Chef Instructor
Omar Abodib, entrepreneur and creator of the « pop-up restaurant » concept and « food-truck » in Paris
Gaëtan Turner, entrepreneur and owner of a business selling Australian wine in France
Annette Young, Australian journalist and FRANCE 24 presenter, led the debate. Amongst the subjects discussed were the use of frozen and fresh products in the restaurant industry, restaurant service, having a passion for the industry, transmitting know-how, and the mediatization of the industry through television programs.
We were honored by the presence of His Excellency George Mina, Deputy Australian Ambassador in France.
The evening, which was full of exchanges and sharing of knowledge, finished with a cocktail party for representatives from both Advance and Le Cordon Bleu Paris.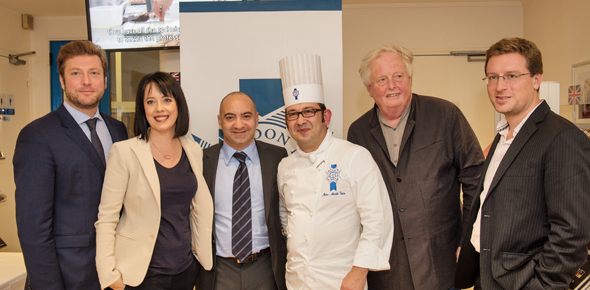 For more information