In The News
A walk through Chinese Gastronomy: culinary traditions in regional cooking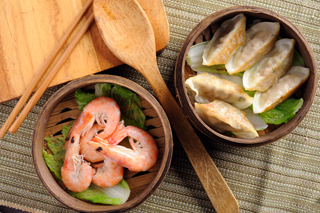 Although world famous, Chinese cuisine is still little known for the lavishness and diversity of its dishes. Strictly speaking we should speak of several different types of Chinese cuisine, changing according to the different regions and natural resources available, climatic conditions and even the historical, political and cultural background. Dishes prepared in the north of China rely mostly on wheat, whereas southern cuisine is mainly based on rice. Differences in flavours can also be noted between each area of China: salty in the north, sweet in the south, spicy in the west and sour in the east.
After a rapid overview, we are able to categorise the following types of Chinese cuisine: Guangdong or Cantonese cuisine, Shandong cuisine (North-East), Jiangsu cuisine (East), Anhui cuisine (East), Zhejiang cuisine (south of Shanghai), Fujian cuisine (South-East), Hunan cuisine (South) and Sichuan (South-West). These categories may not even be entirely accurate since local cuisine variations may be present within each of these regions.
Despite such diversity, certain culinary characteristics are specific to all the regions. Each menu is made up of several dishes to be shared, expertly combining hot and cold elements. Of course, aesthetics and the balance of flavours play a vital role (sweet, salty, sharp, bitter and spicy). Each meal represents a true awakening of the senses focusing on taste with the balance of the 5 flavours, the visual aspect with the harmonious aesthetics of the presentation, and aromas, none of them unpleasant, since the cooked elements of the meal are highlighted to mask any natural odours.
For important occasions such as the Chinese New Year the same culinary traditions are followed throughout the country. The Chinese New Year is a major traditional event in China held over a period of two weeks ending with the lantern festival. Throughout this two-week period the tasting of a succession of diverse dishes highlights the important element of good fortune.
The Cordon Bleu chefs propose a menu for the Chinese New Year:
Green papaya salad with garden vegetables and a papaya vinaigrette
To celebrate the Chinese New Year, the Chefs from Le Cordon Bleu suggest a refreshing starter with Asian influences.
Read the recipe
Mildly spiced turbot, eggplant confit, sweet and sour sauce
The confit eggplants give sweet flavor and interesting texture to the dish whilst the delicate flavor of the fish is complemented by the addition of spice.
Read the recipe
Tangy langoustine soup with crunchy vegetables of the moment
Celebrate the Chinese New Year ! Le Cordon Bleu Chefs present this elegant recipe with the subtle flavors of Asia.
Read the recipe
Take a journey to China:
Experience the different Chinese ingredients, flavours and culinary techniques by joining our culinary workshop on Chinese cuisine. Book your place here.
Tea is well known for its digestives properties and in China is shared with family, friends or work colleagues. Try our Chinese Earl Grey tea available from our online boutique.
For more information