In The News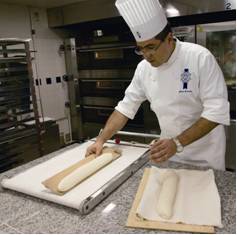 Le Cordon Bleu-Sookmyung Academy; New Bakery Chef
Welcome Chef Alain Sanchez
Le Cordon Bleu-Sookmyung Academy is pleased to welcome Chef Alain Sanchez to our institute as Bakery Chef Instructor. Born in Pyrénées-Orientales, Chef Alan Sanchez started his career in Bakery and Pastry after obtaining CAP (Certificate of Professional) in 1984. Chef Alan Sanchez then decided to expand his experiences working a number of years in a variety of pastry shops in France, U.S.A, Turkey and Africa.
He had an illustrious career in the global food services and facilities management company Sodexho GBV, as a bakery chef, restaurant manager and staff instructor. Chef Alain Sanchez also worked as a chef de partie for several establishments including Celebrity cruise in U.S.A. In 2008, he was recruited by M. Henri Poch in France, who holds the 'Meilleur Ouvrier de France' title in 2000.
Chef Alain Sanchez joined Le Cordon Bleu Tokyo in 2006 as a bakery instructor for 2 years. He is currently the bakery chef instructor at Le Cordon Bleu Sookmyung Academy and passing on his bakery knowledge and expertise to Korean students.

Information
Le Cordon Bleu-Sookmyung Academy

cordon@sm.ac.kr


www.cordonbleu.co.kr


02) 719-6961~2