Le Cordon Bleu News, 09/16/2010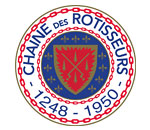 On September 17, the International competition of the "Jeune Commis de la Chaîne des Rôtisseurs" took place in Helsinki in Finland.
Chef Philippe Clergue, instructor at Le Cordon Bleu Paris was a member of the international Jury. This annual event brought together 23 competitors from different parts of the world. The event took place in the Helsinki City College (Helpa).
The awards were received by:
First Place: Stacey Lee Chan – South Africa
Second Place: Daniel Schofisch – Germany
Third Place: Stephanie Schnepf – Canada
On Monday September 20, Chef Philippe Clergue trained and passed on his knowledge to students of the Helsinki City College of Culinary Arts.