If you love working with chocolate, have artistic flair and are currently studying with TAFE NSW or Le Cordon Bleu, we invite you to register to compete and showcase your talents in the inaugural student Callebaut Chocolate Showpiece Challenge. The theme for this year's challenge is Ocean.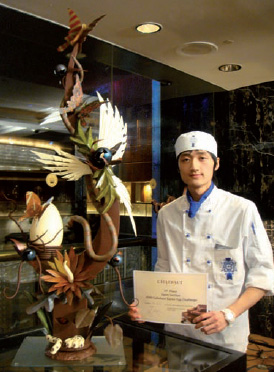 Justin Yu - 2009 Callebaut Easter Egg Challenge Winner
Prizes include
$500 voucher for Savour Chocolate & Patisserie School
Le Cordon Bleu's latest publication The Chocolate Bible
All participants will receive a voucher for two, to a Le Cordon Bleu High Tea.
Eligibility
Currently enrolled TAFE NSW or Le Cordon Bleu students in any culinary program.
When
Entries open 7 March and close 25 March. Competition day Thursday 7 April.
Assembly time from 9am-1pm onsite.
Where
TAFE NSW – Northern Sydney Institute
Level 4, Building A, Ryde College,
250 Blaxland Road, Ryde, NSW 2112
Registration
To register and for more information please call 9448 6307 or 9448 6122.
Terms and Conditions available on request and at registration.
Competition rules
Participants must be an enrolled student and the work must be their own
The competition is not open to full-time or part-time TAFE employees
The maximum size of the completed show piece should be 75cm x 40cm x 40cm
Only couverture to be used throughout the entire structure. No foam or inserts of any kind to be used to provide structure
Cocoa butter colours are permitted

Lustre powders are NOT permitted

Non-edible stand permitted
Showpiece can be brought to competition in pieces and assembled on the day. 4 hours preparation time is allocated. Preparation can commence from 9.00am and must finish by 1.00pm
Participants must wear chef's uniform
Melted dark, milk and white couverture will be available on site for gluing the piece together
Award ceremony will be held at 3pm at Level 4, Building A, Ryde College
Judging will be conducted by industry experts
Marking criteria will be made available to registered participants.