Le Cordon Bleu News, 06/02/2014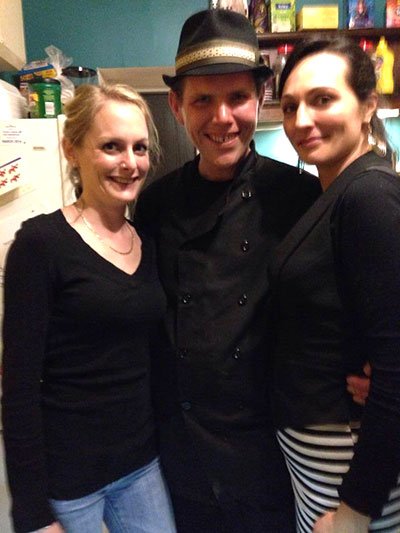 Le Cordon Bleu Ottawa Graduate
Cuisine
2006

We chatted with Executive Chef Allan McPherson of Halifax's Picnic Urban Dining, about his education and life after Le Cordon Bleu Ottawa.
What helped you decide to choose a career in the culinary world?

I almost felt that there was no other option for me. For as long as I can remember I had been obsessed with food. Not just in cooking it, but the entire culture around it. I loved restaurants and dining, the whole ritual of it. When I had the chance to move to Ottawa with my wife, that was the deal, if we sell our house and uproot, well, I get to study at Le Cordon Bleu!
Why did you choose Le Cordon Bleu Ottawa?

Le Cordon Bleu Ottawa was always on my radar. I appreciated the history and romance behind the school. I loved the focus of the curriculum. Some schools try to sell themselves as "all things to all people" and that attitude makes me nervous. It's hard enough to be an expert at one thing, let alone the entire scope of gastronomy. The French focus speaks to that laser like attention that Le Cordon bleu offers.
What made your experience memorable?

It became pretty clear to me just how little I really knew about food. I mean, I was a really good home cook, I had a mature palate, and was familiar with many products that others were not. And yet very quickly I realized that I was in a forget everything you know environment. I knew right away that the key to success at Le Cordon Bleu was going to be based around being open minded, working hard, and more so, working smart. Luckily, the teaching chefs were all VERY smart people that you could learn so much from.

Tell us about life after Le Cordon Bleu graduation:

After graduation I admit I fell into a bit of a funk. The experience at the school meant so much to me that actually getting into the 'real world' was kind of a letdown. I knew I would be returning to Halifax in less than a year, so I didn't want to go to work in a place that I would want to commit to. 

 I wound up working for a 24 hour, high volume, breakfast focused place, with 90% of product coming out of a box. I was depressed, this wasn't what I learned to flute mushrooms for! One thing that kept me going was knowing that you can learn something from any circumstance. I had an aptitude for prep. work, so I was put in charge of the production kitchen in something crazy, like two weeks. I realized pretty fast that I could knock off for the day once I got my prep done. So that became my game with myself. Figure out how to work fast, work clean, and without any mistakes. Figure out the best ways to set myself up for the next day, or next two days. So my dislike of my job got me really good at it.

After several months a plum opportunity came up back home. An apprenticeship opportunity with Chef Scott Vail at the historic Haliburton House. He took me on in one of the best environments a young cook could ask for. Menus were set daily, we worked with game, heritage vegetables, and everything was made in house from scratch. I eventually advanced to Sous Chef before I left after three years.

I sous'd around after that in some other of the fine dining stalwarts in Halifax. I was always a big fan of technique, I love to learn and teach myself new skills. My first Exec. Chef job came out of this part of me. I became Chef at Boneheads BBQ, the first traditional BBQ joint in Atlantic Canada. I always loved slow smoking and here was a chance to take that to the next level. Many people thought I was nuts, leaving fine dining for a "sandwich joint." I had a hunch though, I knew the public's pump was primed for this style of food, and things took off like gangbusters. No other job has boosted my profile like this one. From TV appearances, competitions, national radio and newspaper interviews. All that aside, we really put a lot of love into that food, doing everything from scratch and with pride.

Recently I left an Executive Chef position at a high end fine dining restaurant to start my own business. I am the owner/chef/head pot washer of Al's at Night (soon to be PicNic Urban Dining). We are a fine dining Pop-up restaurant. We do experimental, fun food, in unexpected locations. It's all themed tasting menus, one night only, never to be had again. In many ways it like getting back to school, back to learning new things every day, problem solving, and making things distinct and interesting for the customer.

What advice would you give prospective students about the culinary world?
Being able to cook is only half the battle to success. Learn your fundamentals, then learn to work. Learn to work sick, learn to work injured, learn to do all the kitchen jobs that nobody else wants to. Focus on cooking the foods you hate. I took every chance I could to cook turnips. If really don't like a food, make sure you get it right the first time.

One thing I always stress to younger cooks who work for me is that cooking is a lot like acting. You really need to treat your restaurant like it's a character in a play or film, and your job is to act along with that character, to make him or her look good. If you don't "get" your restaurant's personality it means you don't have a grasp on the food. Or that maybe the restaurant itself doesn't have a sense of what it is, then you've got trouble.

Cooking for a living is a wonderful thing. It can be tiring, frustrating, stressful. There are enough commentators out there who publish harsh lists of warnings to young cooks as it is. Most of these lists are true. But the thing is, the thing that gets lost in the bluster is that nobody would be saying these things if they didn't love the industry. And I mean crazy, obsessive, wake up with cold sweats kind of love. And nobody loves something THAT MUCH for no good reason. Unless they are crazy. Which in this situation is entirely possible. Because if cooking gets in your blood, not doing it will surely make you crazy. If this business is right for you, and you will find out pretty fast, you will feel more at home in a kitchen than any other place on earth.

Promise.