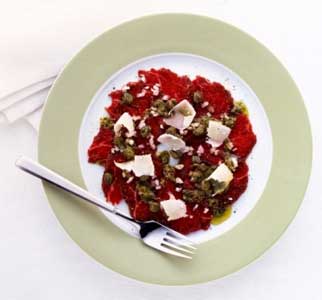 Serves: 4
Preparation Time: 15 minutes plus 4 hours freezing
Abstract:
This Italian classic originated in the famous Harry's Bar in Venice. In Italian restaurants it is usually served with a bottle of the best extra-virgin olive oil to sprinkle over the beef. You can do this too if you wish.
Ingredients:
250-300 g (8-10 oz) piece

of

beef fillet

salt and freshly

ground black pepper

4-6 tablespoons

bottled

pesto

and

a little

olive oil

1

shallot

or

small onion

4 tablespoons

drained capers

150 g (5 oz)

block of

Parmesan cheese
Methods:
Trim any fat or sinew from the beef and discard. Wrap the beef very tightly in cling film and place it in the freezer for about 4 hours to harden.
About 1 hour before serving, cut the beef into wafer thin slices, using a sawing action with a very sharp knife. Arrange the beef on 4 plates, overlapping the slices slightly. Season with salt and pepper and drizzle with pesto mixed to a runny consistency with olive oil. Finely chop the shallot or onion and sprinkle over the beef with the capers.
Take the block of Parmesan and a vegetable peeler and carefully shave thin slivers of cheese onto a plate. Pick up the shavings with your fingertips and place them delicately on the carpaccio. Cover the plates and leave at room temperature for 30-45 minutes, by which time the beef will have thawed.
To serve: Uncover the plates and serve immediately, with hot crusty bread.
Chef's tips:
Freezing the beef until hard is a technique used by oriental chefs. It is the best way to get wafer thin slices.
Variation:
Make Quesadillas. Sandwich 2 tortillas with grated cheese, chopped jalapeño chillies and stoned black olives. Heat in a hot non-stick frying pan until the cheese starts to melt. Flip the sandwich over and heat the other side.