In The News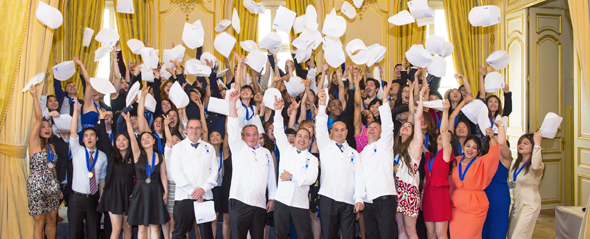 Le Cordon Bleu Paris summer session graduation ceremony
Le Cordon Bleu Paris 2014 summer session graduation ceremony was held at the prestigious "Cercle de l'Union Interalliée" on August 29 with graduates' family members and friends. On this special day, Le Cordon Bleu was honored to welcome Pierre Hermé who accepted to be the class patron.
The key word in Pierre Hermé speech was "patience", which is very important to succeed a culinary career. He also stressed the importance, for the future careers of our graduates, of rigor, precision, the constant desire to produce something of excellent quality and attention to detail. The pastry Chef also added that Le Cordon Bleu Paris instructors had succeeded in "transmitting knowledge, savoir faire and technical know-how which are essential" for their future careers. Two of this class's graduates will also carry out internships in Pierre Hermé's company: Célina Tran (France) and Aneta Kolblova (Czech Republic).
97 students of 34 different nationalities made up this class. Pierre Hermé talked about this cultural diversity adding "I really hope that you will make the most of everything you learnt in Paris and make a contribution to the influence of French gastronomy"
Congratulations to the future international ambassadors of French gastronomy!
The top 5 students for each level

We are delighted to announce the top of the class graduates of the third 2014 session:
Basic Cuisine


1st: Cheryl Barenberg, United-States
2nd: Luis Bouza Trabal, Spain
3rd: Po-Han Chen, Tawain
4th: Kelsie Creen, United-States
5th: Maria Aparecida D'Aquino de Paula, Brazil

Basic Pastry


1st: Juwon Kwon, South Korea
2nd: Jade Shaw, United Kingdom
3rd: Aram Song, South Korea
4th: Alessandra Carosi Peruzzo, Brazil
5th: Nancy Winston, United-States

Intermediate Cuisine


1st: Oksana Dubchak, Ukraine
2nd: Di Zhang, Australia
3rd: Victorien Vilchez, France
4th: Abigail Hill, United Kingdom
5th: Patrick Merrithew, Canada

Intermediate Pastry


1st: Erez Pintok, Israël
2nd: Preeta Ganapathy, Malaysia
3rd: Shang-Ni Lee, Taiwan
4th: Chih-Ting Chao, Taiwan
5th: Rebekah Olson, United-States

Superior Cuisine


1st: Kai Montana Pawittranon, Thailand
2nd: Olesia Guts, Ukraine
3rd: Mariana Chedid, Australia
4th: Daniela Bieder, Switzerland
5th: Mariajosé Cañas Madrid, Venezuela

Superior Pastry


1st: Young Ran Choi, South Korea
2nd: Jennifer Pogmore, United Kingdom
3rd: Natasa Jokic, Croatia
4th: Chih-Ting Chao, Taiwan
5th: Daniela Bieder, Switzerland
You may purchase photos taken during graduation by clicking here (all students have been given the access codes on the day of the graduation ceremony).
For more information