In The News

Beyond the World Pastry Cup and the Bocuse d'Or 2013
Sirha 2013
The largest meeting of Chefs and professionals of the gastronomy world took place in Lyon from January 26 to 30, 2013. The most important international culinary competitions were hosted during this fair. France was the winner of both the World Pastry Cup and the Bocuse d'Or.
Le Cordon Bleu congratulates Paris Pastry Chef Instructor Nicolas Jordan who was the stand-by replacement for the French Pastry team. For an entire year Chef dedicated his time to the team's practice sessions and shared creations and ideas with the other members. The school is also very proud of the Australian and British teams who both had Le Cordon Bleu Chefs in their teams and finished 7th and 9th place in the competition.
During the fair the Le Cordon Bleu stand was a meeting place for alumni, Chefs, friends and all those interested in the schools international programs and activities, including:
| | | |
| --- | --- | --- |
| | | |
| Bao Feiyue a graduate of Le Cordon Bleu Paris and National fruit and vegetable carving Champion in China, participated in the fair during which he carved a stunning butternut squash and carrot piece. | Pastry Chefs Jean-François Deguignet and Nicolas Jordan shared their knowledge on sugar work techniques. | Le Cordon Bleu Cuisine Chef Patrick Caals demonstrated vacuum packing techniques in partnership with the oven manufacturer. |
Le Cordon Bleu Paris alumni Jorge Lamport participated for the second time as the coach of the Guatemalan team for the Bocuse d'Or. For Jorge, the teams' participation is a whole learning process. Latin-American teams are poles apart in comparison with European and Asian countries in terms of technology and financing. Jorge shares his passion with the new generation of young Chefs so they can participate as candidates in this unique international competition.
Le Cordon Bleu was also delighted to see graduates who are now successful in the sector:

Darren Chin, the winner of the Coupe du Monde de Sandwich, is now back in Malaysia working for his family business. Darren Chin was invited by Délifrance to participate in the Sirha fair to demonstrate the sandwich for which he won the competition in 2012.
Ensan Wong, a graduate of Le Cordon Bleu Paris, works as Chef de Partie in the Hotel Meurice in Paris. Solicited through his job, Ensan did private tastings for the best customers of a coffee machine maker.
Back in Paris after the exhibition, Le Cordon Bleu welcomed Chef Marco Sáenz and his assistant Rodrigo Aguilar from the Guatemalan team for a demonstration on the beef dish presented at the Bocuse d'Or competition. Miguel Quezada, Executive Chef at Le Cordon Bleu Casa de Francia in Mexico and first-time candidate of the Bocuse d'Or, presented his creations to students and special guests alongside his Coach and Technical Director from Le Cordon Bleu Mexico, Patrick Martin. Also, André Sandison, Head Instructor at Le Cordon Bleu Sydney and Chef Nicolas Jordan demonstrated pulled sugar and a chocolate entremets.
| | | |
| --- | --- | --- |
| | | |
| Chef Marco Sáenz and his assistant Rodrigo Aguilar | Miguel Quezada, Executive Chef at Le Cordon Bleu Casa de Francia in Mexico and his coach Patrick Martin | André Sandison, Head Instructor at Le Cordon Bleu Sydney and Chef Nicolas Jordan |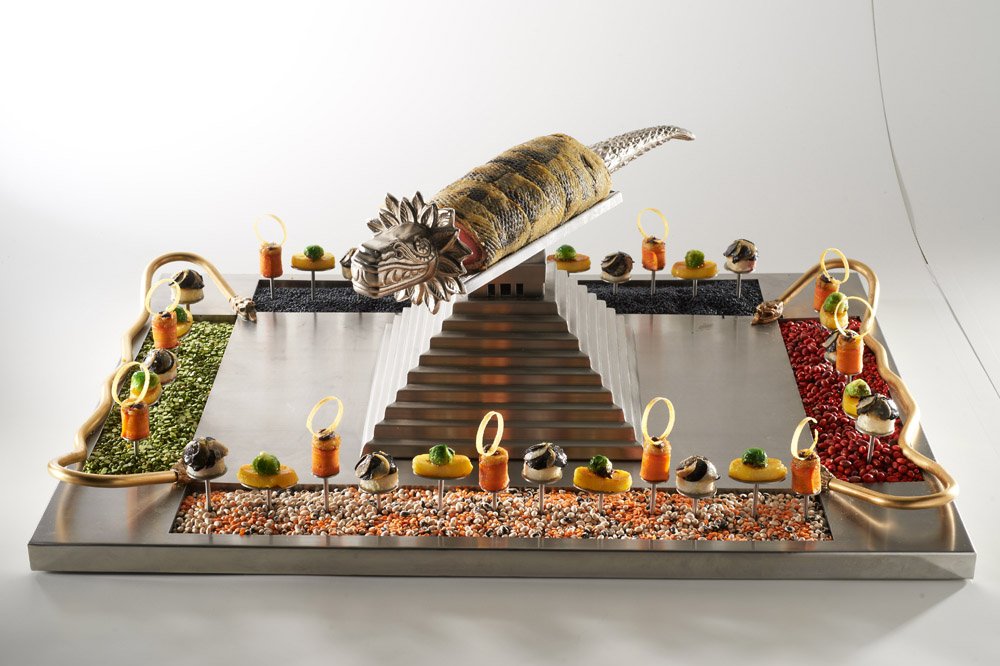 © F. Mainard, © Le Fotographe

- Bocuse d'Or Competition - Beef tenderloin dish from Miguel Quezada - Mexico
Le Cordon Bleu participates in the first Istanbul Sirha Exhibition
For more information