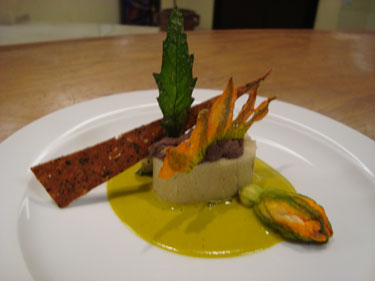 Ingredients
Tamale Dough
150 g Nixtamal corn meal or Masa harina
200 g Chicharron (fried pork rinds), soft crumb
150 g lard
1 g baking powder
25 g flour
chicken stock for wetting
salt
Banana leaves for wrapping
Black Bean Filling
250 g cooked black beans
50 g onion
50 g Lard
10 g garlic
10 g Serrano chili
salt and pepper
Squash Blossom Sauce
1 bunch zucchini /squash blossoms (about 20 blossoms)
60 g onion
10 g garlic
10 g Serrano chili
5 g epazote*, finely chopped
30 g butter
250 ml chicken stock
80 ml heavy cream
Salt and pepper
Crisp
30 g chipilin (chipilines*) or pea tendrils, finely chopped
30 g lamb's quarters (quelites*) or baby spinach, finely chopped
100 g flour
Salt and pepper
Bohemia Obscura beer or other dark beer
Method

 

Tamale Dough

Using a blender or food processor, pulverize the chicharron until fine. Mix with the Nixtamal or Masa Harina. In a bowl, beat the lard until it has doubled in volume. Mix in the cornmeal mixture along with the baking powder, adding chicken stock as needed until a soft spreadable dough forms. Season to taste, then spread onto the banana leaves, 5 mm thick. Set aside.

Black Bean Filling

Finely chop the onion, garlic and chili. Melt the lard in a small saucepan, add the onion and sweat until soft. Add the garlic, chili and beans. Cook and using a potato masher, crush the beans until the consistency of a thick paste. Season and spread on top of the corn dough. Roll up into 4 cm wide cylinders then fold the ends under. Steam for 10 minutes.

Squash Blossom Sauce

Sweat the onion in the butter, add the garlic and chopped epazote. Add the squash blossoms and chicken stock and leave to simmer for 10 minutes. Puree in a blender then strain through a fine chinois. Place back over medium low heat, and gently cook until thick enough to coat the back of a spoon. Stir in the cream. Season to taste, set aside and keep warm until needed.

Crisps

Preheat the oven to 180C. Place the flour, chipilines and quelites into a bowl and gradually whisk in the beer to make a thick paste. Season with salt and pepper. Spread a 2 mm thick layer of the dough onto a silpat (silicone mat). Place in the oven and bake until crisp.

 

Chef's tips:

*Epazote is an herb that is distinctive to Mexican cuisine and is a classic aromate used with black beans. There is no real equivalent to this herb. It can be found in some farmer's markets and sometimes frozen in specialty markets specializing in Mexican and South American foods. It can be replaced by cilantro.



*Chipilines and Quelites are greens used in Mexican and South American cooking. Quelites or lamb's quarters can be found in Farmer's markets but Chipilines, sometimes called longbeak rattlebox, is less easy to find unless grown in your owngarden. Quelites can be replaced with baby spinach or kale, and chipilines resemble alfalfa in appearance but not in flavor, and pea tendrils are said to come the closest in flavor.

***

Learn more about culinary and hospitality management programs taught in Spanish at Le Cordon Bleu Mexico. Visit www.lcbmexico.com

To find out more about Le Cordon Bleu cook books, please visit our online boutique. We also sell cook books and cooking equipment at our campuses.