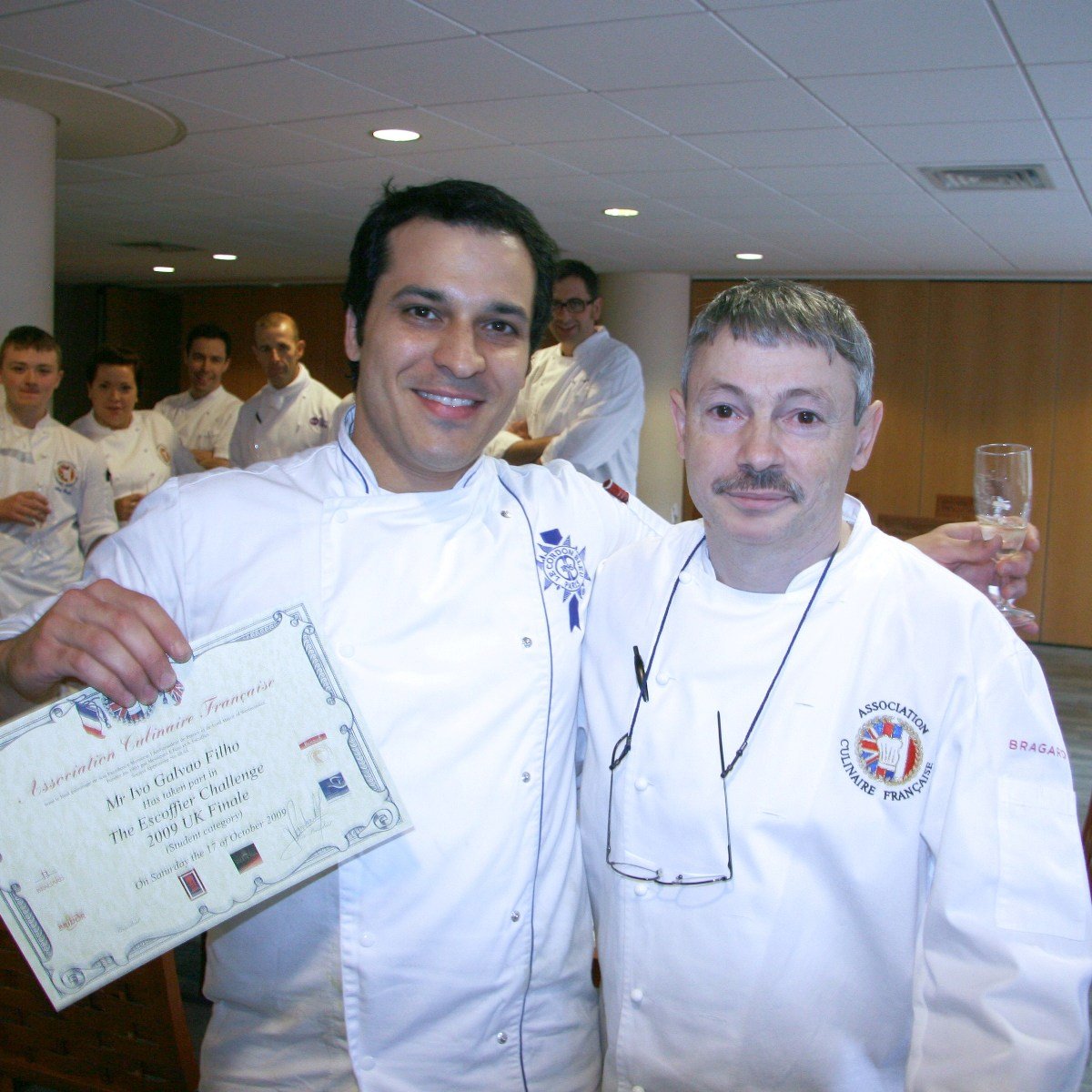 In this picture: Ivo Galvao Filho and Philippe Vandewalle, Head Chef of the Casino Ritz and co-organiser of the competition with Jacques Pasquier
The British Grand Final of the Escoffier Challenge 2009 was held on Saturday 17th October 2009 at the West London Hammersmith College. This extremely prestigious culinary competition, organised by the international gastronomic society Association Culinaire Française, gathered the winners of the previous regional heats in Scotland, Manchester, the Thames Valley and London.

Candidates had to cook over 4 hours a compulsory starter - a classic recipe from Auguste Escoffier (Artichoke filled with Mushroom Duxelle, Poached Duck, Sauce Choron and Mushroom Fumet) - and a dish of their choice with chicken and 4 garnishes. 

Ivo amazed the panel of 12 high profile judges, including Pascal Aussignac (from the Club Gascon-1* Michelin) and Jean-Denis Le Bras (from Sketch-1*), with his gastronomic "Duo of Chicken, Baby Aubergine, Pommes Anna, Caramelised Diced Pear, Sautéed Wild Mushrooms and Tarragon Sauce".


| | | |
| --- | --- | --- |
| | Ivo will now represent Le Cordon Bleu at the international Grand Final of the competition in February 2010 in Nice. | |

Congratulations to Ivo! We wish him all the luck in the next heat of this competition!

About Le Cordon Bleu London
The London school was founded in 1933 and welcomes every year an international mix of students. Le Cordon Bleu London is very proud of its team of Master Chefs, who have been recruited from some of the world's finest kitchens and are dedicated to transmitting their "savoir-faire" to future generations of chefs. Their unique background and personalities ensure that intensive learning is mixed with informal enjoyment!

For more information about our school, please contact Béatrice Marraud des Grottes at 020 7935 3503.

About Ivo Galvao Filho
Ivo is Brazilian and graduated from a Cuisine Diploma at Le Cordon Bleu London in July 2009. He now works at The Loft, an exclusive Supper Club in  London. The Loft is the test kitchen of Nuno Mendes' next restaurant Viajante, scheduled to open in December 2009. Ivo will be a Chef de Partie in the new restaurant.

About the Association Culinaire Française
Le Cordon Bleu is an active member of the Association Culinaire Française, a gastronomic society created and managed by Chefs, for Chefs, which main goal is to maintain professional standards of Cuisine and to encourage Learning and Skills.