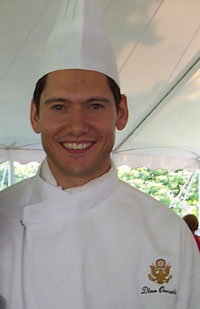 About Chef Dino Ovcaric
Born and raised in Ottawa, Dino worked as an apprentice at the National Arts Centre (NAC) under Executive Chef Kurt Waldele where he was given increasing responsibilities and had the opportunity to learn by working in every department of the NAC kitchens including Banquets, Le Café, the pastry department, and the butcher shop. The summer of 1995 was spent in the kitchen of Tulips and Maple Catering under Chef Mark van der Pas. In the fall of 1995, Chef Cory Haskins, the Executive Chef at the Residence of the American Ambassador, invited Dino to assume the sous-chef position at the Residence. When Chef Haskins left to take on the Executive Chef position at the Rideau Club in 1999, Dino was promoted to Executive Chef at the Residence.
As Executive Chef, Dino has been responsible for overseeing all food-related aspects for the annual Fourth of July celebration that regularly attracts between 3000 to 6000 invited guests. The Fourth of July party at the Residence is a highly sought-after ticket and has generated extensive media interest. Dino has been interviewed by the Globe & Mail, the National Post, CBC Radio, the Ottawa Citizen, the Ottawa Sun and the Life Network for a documentary on the Residence.
Dino enjoys the freedom he is given to be creative in his cooking and the wide range of cuisines from which he can be inspired. There have been many highlights to his career including cooking for Presidents G.W. Bush, President Bill Clinton and First Lady Hillary Rodham Clinton, Prime Minister Jean Chrétien, various members of the Canadian Cabinet, U.S. and Canadian Supreme Court Justices, Secretaries of State Warren Christopher and Madeleine Albright, Senator John McCain, Governor Arnold Schwarzeneggar, and the entire Atlanta Thrashers and Carolina Hurricanes National Hockey League teams.