Le Cordon Bleu News, 10/07/2009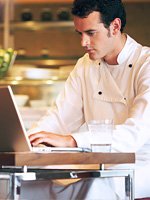 Our new program is designed for those seeking comprehensive professional training to prepare for a career in the culinary arts. Le Grand Diplôme Professionnel provides students with the opportunity to enrich their culinary arts education with additional theory, to obtain industry-recognized certifications and most importantly to gain real-world experience via a 3 month internship at a restaurant.
"Students who are interested in pursuing a career in the culinary industry should strongly consider enrolling in Le Grand Diplôme Professionnel program because it provides them with the knowledge, training and practical experience needed to make them the culinary leaders of tomorrow!" says Patrick Martin; Vice President, Le Cordon Bleu International Culinary Education & Development. Le Cordon Bleu is dedicated to training students at the highest standards to give them the skills sought after by today's culinary industry.
Registration for January 2010 is now open, please apply online or contact one of our representatives.
Le Cordon Bleu Ottawa Culinary Arts Institute delivers a variety of Certificate and Diploma programs that have been designed for the aspiring professional, passionate about cuisine and pâtisserie. We also offer Short Courses for gourmet enthusiasts.