Le Cordon Bleu News, 08/26/2009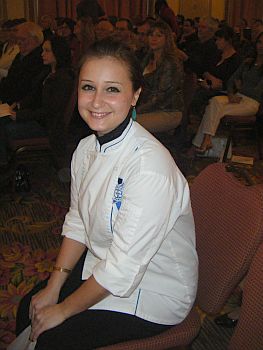 LE CORDON BLEU in partnership with LE CHAINE DES RÔTISSEURS OTTAWA recently hosted Le Jeunes Commis competition on Saturday July 11, 2009.
The Jeune Commis (Young Cooks) Competition was first organized in 1977 in Switzerland to support and promote future young chefs by giving them the opportunity to demonstrate their skills.

Allison Yanko, a Superior Cuisine student, won Le Meilleure Jeunes de Commis Regional. Alison dedicated additional time to train for this event with the help of Chef Hérve Chabert and Chef Jean-Marc Baqué. With their combined knowledge of Pastry and Cuisine, the Chefs were an instrumental part of Allison's success. Allison had this to say about her experience with the Chef's "They constantly challenge me, allowing me consistently to grow and improve"

Alison is near the end of her time at Le Cordon Bleu Ottawa, she will be completing her Cuisine Diploma at the end of this session. Her words of advice to her current classmates and future students "This is an investment in your future, you can only learn as much as you are willing to commit". 

We wish Allison the best of luck in the National Competition coming this fall.