Le Cordon Bleu News, 07/31/2009
For the love of pastries!
From a very young age, Hannalee Pervan knew that she wanted to be a pastry chef. Before deciding that she wanted to attend Le Cordon Bleu Ottawa, she signed up for two short courses, 'Intro to Pastry' and 'Spices Used in Pastry'. After that, she was hooked.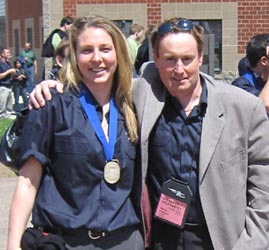 Unfortunately, she did not have the money to attend Le Cordon Bleu Ottawa and did not want to take out a loan. Knowing that this was what she really wanted, her parents told her that if she was able to get a scholarship for a university degree and get high marks, they would pay for her Pastry Diploma.

This is exactly what she did. She got a basketball scholarship at Quinnipiac University in Connecticut where she studied Entrepreneurship and Small Business Management with a minor in Marketing and Art. With the highest grade point average in the entire business school, she received the Outstanding Achievement Award. She also graduated Beta Gama Sigma which means that she is within the top two percentile in the United States. After that, she came to study at Le Cordon Bleu Ottawa.

After eight months of study, in Superior Pastry, Hannalee, along with five other pastry and cuisine students, were selected to attend the Ontario Technological Skills Competition on behalf of Le Cordon Bleu Ottawa. Hannalee placed first in pastry and moved on to the Canadian Skills Competition in Charlottetown.

With less than two weeks between competitions, she worked painstakingly with Pastry Chef Hervé Chabert to perfect her skills and learn his recipes. By the end of the two day competition, she was awarded 2009 Skills Canada Post Secondary Baking Champion.
Hannalee's love for pastries combines her passion for art, baking, and making people happy. "Whenever you bring pastries to someone, they seem to light up and seem joyful.  I love that part of pastry."