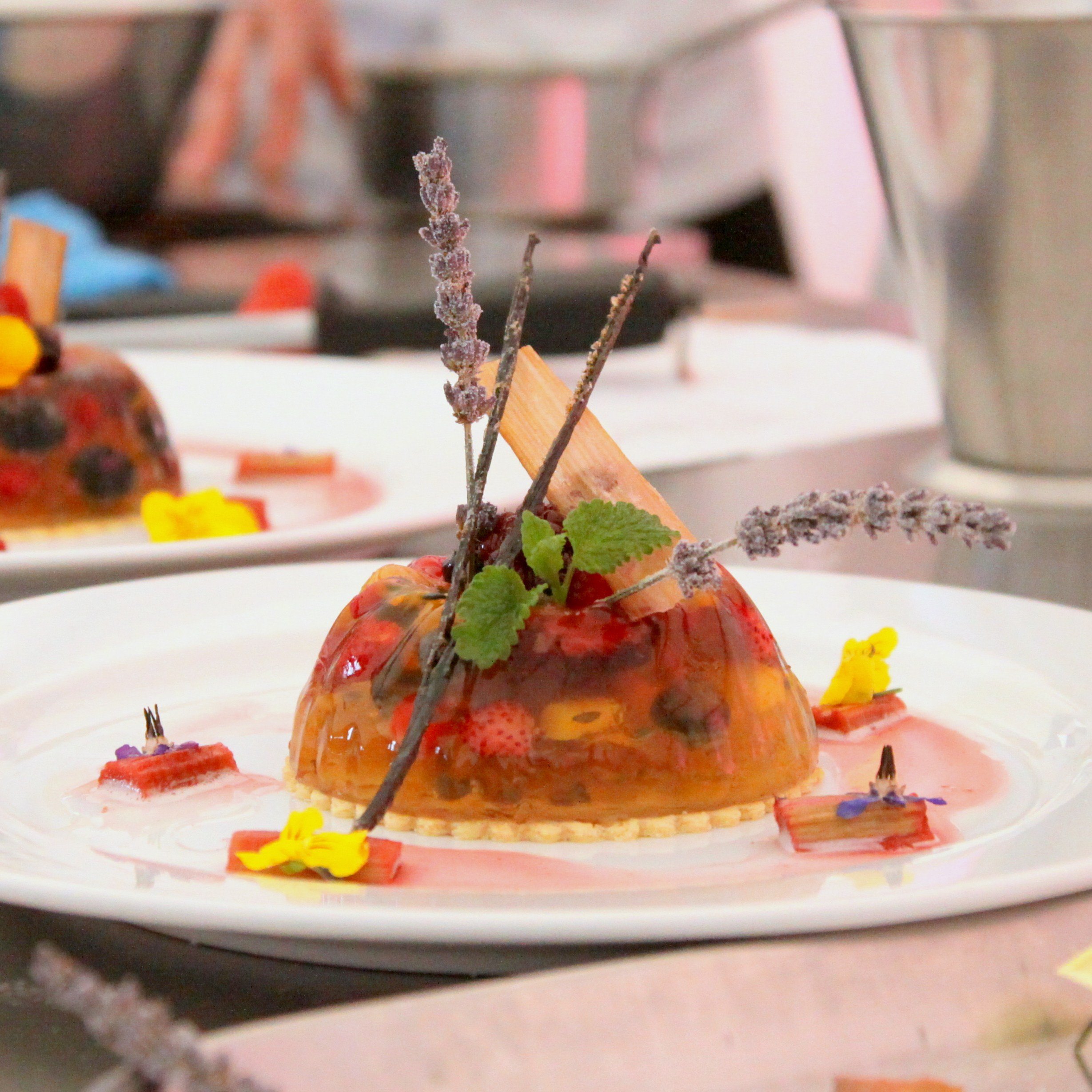 Preparation: 1 hr + 2 hrs chilling
Cooking: 30 mins
Serves: 4

Ingredients:

Farandole of jellied summer fruits with garden blossoms
350 g fresh summer berries (raspberries, strawberries, blueberries, red/white currants)
1 small ripe mango
250 g mixed edible flowers (rose petals, lavender, elderflower, chamomile)
1.2 Litre Gewürztraminer wine
½ vanilla pod
peel of 1 lemon
peel of 1 orange
10 gelatine leaves

Lavender sablé biscuits
200 g unsalted butter
250 g flour
2 g salt
100 g vanilla icing sugar, sieved
2 egg yolks
½  teaspoon lavender oil
10 g lavender flowers
Method:

1. Preheat the oven to 180°C.

2. Farandole of jellied summer fruits with garden blossoms: Wash and dry all the fruits, remove stems and stalks from the berries, peel and cut the mango flesh (about 50 g) discarding the stone. Remove any leaves and stalks from the edible flower blossoms and wrap loosely in muslin cloth tied with kitchen string to make a small bag.

3. Gently heat the wine with the vanilla, citrus peel (keep a piece of each for the sorbet) and sugar without bringing to the boil. Add the bag of blossoms and infuse for at least an hour together with the fruits. Soak the gelatine leaves in cold water until softened.

4. Remove the blossoms and fruits, keeping a little of the infused liquid for serving, and pour 100 ml into a saucepan. Gently heat through, stirring in the gelatine leaves to dissolve.  Remove from the heat, gradually stir into the remaining liquid. Pour into individual moulds, arranging some of the infused fruit in the moulds, keep some for serving. Refrigerate until required and jelly has set.

5. Lavender sablé biscuits: Rub the chilled butter into the flour until the mixture resembles fine bread crumbs. Stir in the vanilla icing sugar and salt, then add the egg yolks and lavender oil, working gently to form a dough, shape into a ball. Wrap in plastic film and refrigerate for about 30 minutes. Roll out the dough onto a lightly floured surface until 4 mm thick.  Place onto a baking tray and prick all over with a fork. Bake for 10 minutes at 180°C until the surface starts to dry, remove from the oven and immediately cut out disks slightly larger than the jelly moulds using a cookie cutter. Return to the oven and bake for a further 5 minutes until golden brown.

6. Gin fizz foam: Gently heat the gin and sugar until it dissolved without bringing to the boil. Soak the gelatine leaves in cold water until softened. Stir in the gelatine leaves until dissolved. Add the sparkling wine and pour the gin fizz liquid into a cream whipping gun following manufacturer's instructions to pressurise the dispenser with gas canister provided.

7. Rhubarb and elderflower sorbet: Peel and chop the rhubarb into small sticks. Place in a baking dish, sprinkle with sugar,  and bake at 180°C together with the vanilla, citrus peel, and orange juice until the rhubarb is tender. Process in a blender until smooth, then add the elderflower pressé. Sweeten with sugar if necessary, cool and churn in an ice cream machine until frozen. Make sorbet quenelles using two spoons dipped in hot water, place on a tray and keep frozen until required.

8. To serve: Place a lavender sablé biscuit at the centre of a plate. Invert the jelly onto the biscuit and spoon some of the marinated fruits on top. Drizzle some of the reserved summer fruits infusion around the plate, shake the cream whipping gun and dispense some sparkling gin foam.  Top with a rhubarb crisp and a quenelle of sorbet. Decorate with sugar decorations, crystallised flower blossoms and fresh mint tips. 

Gin fizz foam
50 ml Tanqueray No. Ten Gin
20-50 g sugar
4 gelatine leaves
150 ml sparkling sweet wine

Rhubarb & elderflower sorbet
300 g fresh rhubarb
100 g caster sugar
1 vanilla pod, split
1 piece lemon peel
1 piece orange peel
freshly squeezed juice of 1 orange
50 ml elderflower pressé

Decoration
sugar decorations
crystallised flower blossoms
fresh mint tips

 
Chef's tips:
This recipe is pefect as a summery dessert. Although it requires lots of preparation and organisation, the result is definitely worth the effort. The combination of flavours is extremely surprising and will please your guests. You can serve it with a nice Gewürztraminer wine from Alsace for a perfect combination.

To obtain a fizzier Gin Foam, you can use a Carbonated Gas Canister.


***

Le Cordon Bleu London offers a variety of short courses in Cuisine and in Pâtisserie. Learn more about our gourmet courses online.

To find out more about Le Cordon Bleu cookery books, please visit our online boutique. Please note that we sell cook books and cooking equipment also at our local campuses. For more information about that, please email us.